Peter Thiel Defends Gawker Lawsuit, Says a 'Single-Digit Millionaire like Hulk Hogan' Can't Defend Himself in Court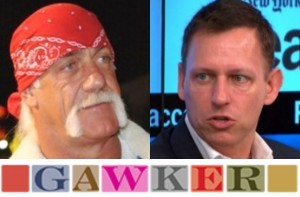 Speaking at the National Press Club in Washington D.C. Monday morning, Peter Thiel defended his decision to fund lawsuits against Gawker Media that bankrupted the company earlier this year.
After Gawker published several stories that cast Thiel's businesses in an unflattering light, including one that outed him as gay, the tech mogul surreptitiously bankrolled Hulk Hogan's invasion of privacy suit against the company. (Gawker had published a video of the former wrestler having sex.) Thiel justified that decision, saying he believed in the "justice of the case," and that Hogan lacked the financial resources to seek recourse.
"If you're a single-digit millionaire like Hulk Hogan, you have no effective access to our legal system," he said. "It costs too much."

The conversation about Gawker begins at 39:00 above.
Thiel also accused former Gawker editor-in-chief A.J. Daulerio of behaving like an "aspiring child pornographer," a reference to a crude joke Daulerio made during a 2013 deposition.
Thiel dismissed the notion that his litigation against Gawker could scare off other media outlets from publishing stories that might offend the deep-pocketed. Gawker was a "singularly sociopathic bully," he said.
"One class of people they especially hated were other reporters, other writers," he said. He added that some of his "friends in the media" encouraged him to pursue the litigation, because of the site's propensity for publishing stories that attacked powerful media figures.
"I strongly believe in the First Amendment. I believe journalists are a privileged group in our society. They play an important role in getting us information in our system of checks and balances," he said. "But these were not journalists," he said.
—
Sam Reisman (@thericeman) is a staff editor at Mediaite.
Have a tip we should know? tips@mediaite.com