Peter Thiel Reportedly Vents About Trump: There's 50/50 Chance 'Incompetent' Presidency 'Ends in Disaster'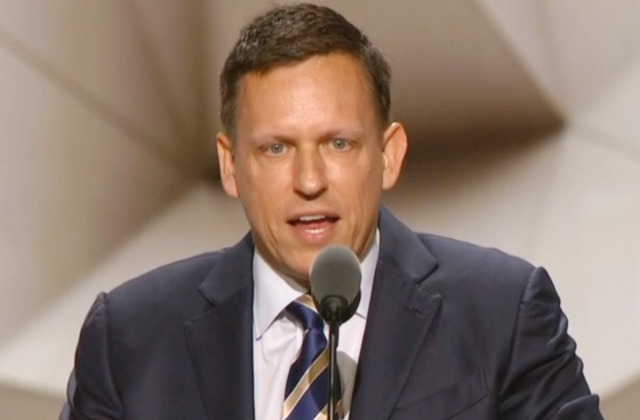 Peter Thiel, the billionaire co-founder of Paypal who made a splash at the 2016 RNC with a rousing speech in support of then-candidate Donald Trump, has distanced himself from the now-president in private conversations, according to Buzzfeed.
The report, from Buzzfeed's Ryan Mac, describes Thiel's conversations with a number of associates, in which he has privately vented about the Trump White House and its failures — reportedly describing an "incompetent" administration that has a 50% chance of ending in "disaster."
Per Buzzfeed:
The sources who talked with BuzzFeed News spent time with Thiel in private group settings before and after the election at his homes in Los Angeles, San Francisco, and Hawaii, engaging in candid discussions on the PayPal cofounder's politics and his backing of Trump. At one event with friends in January 2017, Thiel said of Trump's presidency that "there is a 50% chance this whole thing ends in disaster," according to two people who were in attendance. In other conversations, he questioned the president's ability to be reelected.
The openly-gay Silicon Valley titan is perhaps best known for co-founding Paypal, and since has gone on to bolster his fortune as a venture capitalist — whilst spending time on a number of curious side projects, including bankrolling the assassination of Gawker.
Thiel was sprung into the political spotlight after delivering a well-received speech at the 2016 Republican National Convention, throwing his support behind Trump — unusual, of course, for a wealthy, openly-gay, San Franciscan elite.
Following Trump's election, Thiel served on his transition team and now advises the president on technology policy.
As Buzzfeed notes, his feelings about the president remain private: in a statement, Thiel said "I support President Trump in his ongoing fight," though he did not deny making the comments.
But "various disparaging comments were recounted to BuzzFeed News by three separate sources, and others who subsequently confirmed those accounts," claiming Thiel has "criticized Trump and his administration and developed increasingly pessimistic feelings about the president."
The private comments have the potential to rile a president who doesn't typically handle criticism well, especially from someone like Thiel, who Trump has repeatedly praised in public.
And as recently as May, Thiel was sounding off on the stumbling administration: "At an event in May in San Francisco, he was described by one guest who was in attendance as 'annoyed' with the first months of Trump's presidency," Mac writes. "In describing the administration, Thiel used one defining word in front of his guests: 'incompetent.'"
[image via screengrab]
—
Follow Aidan McLaughlin (@aidnmclaughlin) on Twitter
Have a tip we should know? tips@mediaite.com
Aidan McLaughlin - Editor in Chief