Hugh Hewitt: Alt-Right Critics of McMaster Are 'Throwing Pebbles at a Battleship'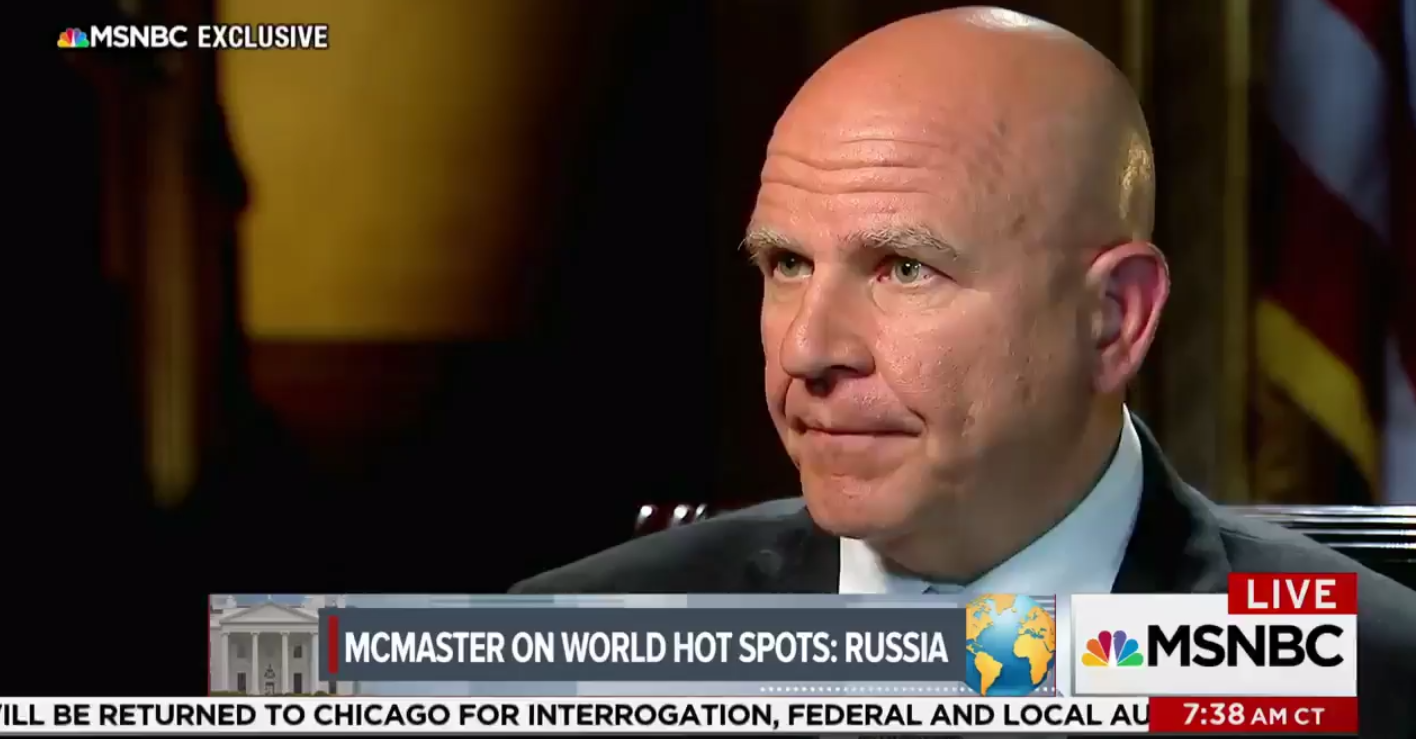 As Mediaite pointed out last week, there's a growing divide within what is known as "conservative media" over President Trump's National Security Adviser H. R. McMaster.
The right-wing media ecosystem kicked into hyperdrive on Thursday declaring war on President Donald Trump's National Security Adviser H.R. McMaster.

The siege against the general comes in response to McMaster's clean-up of the National Security Council, which has been detailed in reports this week, and started with news of the firing of Rich Higgins.
When asked about the escalating attacks on McMaster from within the conservative media ranks, radio talk show host and MSNBC analyst Hugh Hewitt (who has been diligently distinguishing between "conservatives" and the "alt-right" outlets when tweeting about the topic) came down in full support of the embattled National Security Adviser.
"The General is an American hero, a strategist and scholar, recipient of Silver Star and two Bronze Stars," Hewitt told Mediaite, exclusively.  "Critics are that is serving the President, has his confidence and confidence of the Chief of Staff."
Hewitt happened to score an exclusive interview with McMaster for his very smart and serious Saturday morning program on MSNBC this weekend and it could very well be one of the most insightful, intelligent and substantive discussions on national security policy you'll ever watch.  How this program made it on to the vacuous, TMZ-style cable news landscape we may never know, but let's hope it gets the notice it deserves:
One snippet of the interview (you really should watch the entire thing above) focuses on Obama's Iran nuclear deal and the tangled web of Middle East terrorist groups connected to the Iranian regime:
HH: And General, let's go to Iran, which I mentioned already. Has Secretary Mattis and President Trump and you decided on clear rules of engagement for when the Iranian ships approach our ships in the Gulf?

HRM: Yes, there are very clear rules of engagement.

HH: And would they, would it be surprising for us to have to sink one of those vessels very soon?

HRM: Well, I– our– our captains, you know, our– our naval– officers and– and leaders are strong leaders who are disciplined. And– and they will do everything they can to, you know, to advance our interests, to protect their sailors and– and to defend themselves if necessary. And the president's made it very clear. He will never, you know, he will never question– any of our military leaders if they take actions to defend themselves and their soldiers, sailors, airmen and Marines.

HH: And is there– is the report correct that the president wants out of the Iranian nuclear deal?

HRM: Well, the– the president, you know, is more than skeptical about that deal. He calls it, "The worst deal ever." And in many ways, it– it was the worst deal ever, because it did, it rewarded the regime, gave them so much up front. And– and what happened is, Iran began immediately to violate the spirit of that agreement. Which was meant not only to prevent this horrible regime– that has been victimizing so many people across the greater Middle East and beyond through their support for– for brutal proxy forces, their support for the Assad regime who's, you know, gassed and murdered his– his own people in large numbers. The support for Hamas, the support for Hezbollah and– and how that has created so much mayhem in the region for these– these– Houthi rebels in Yemen, for example. A regime that has caused so much human suffering already. The intent was to prevent them from getting a nuclear weapon, but also then to– to get them to moderate the beha– their behavior. What– what the regime did is the opposite of that. They actually intensified their destabilizing behavior acr– across the region. So the president's very strong about this when he says, "The main point we oughta focus on is that Iran has violated the spirit of this agreement." And so what we have done is we have crafted– a strategy along with a lot of our likeminded nations, allies, partners, to counter Iran's destabilizing behavior. While we still aim to prevent by whatever means is necessary to do so– Iran from obtaining a nuclear weapon.
This exchange flies in the face of Breitart's "Exclusive" story leading their site this Monday morning.  The report, subtly titled "McMaster Of Disguise: WH National Security Adviser Worked At Think Tank Backed By Soros-funded Group That Helped Obama Sell Iran Nuclear Deal" points out that McMaster was identified as a Consulting Senior Fellow at  International Institute for Strategic Studies (IISS) a think tank based in the UK.  IISS, the Breitbart report says, was supportive of the Iran deal.  Connecting the dots then:  Soros funded IISS… IISS supported the Iran deal…. McMaster was part of IISS…. Therefore: McMaster is a Soros puppet who supports the Iran deal and is working on behalf ot globalists to undermine the Trump White House.
As this story sorts itself out and vitriol is fired from both directions within the conservative commentariat (pleasing CNN, MSNBC and Media Matters to no end) it should be noted that none other than President Trump chimed in over the weekend and confirmed his support for McMaster. "General McMaster and I are working very well together," Trump said Friday night in a statement emailed to the New York Times. "He is a good man and very pro-Israel. I am grateful for the work he continues to do serving our country."
You would think that this kind of public support would quiet those who raised alarms that President Trump was being hoodwinked and undermined by McMaster.  You would think:
This is an opinion piece. The views expressed in this article are those of just the author.