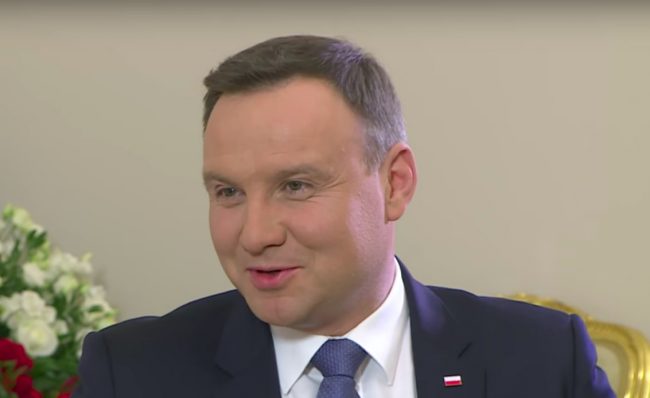 Donald Trump's consistent drumbeat against fake news may have found a new fan in Polish President Andrzej Duda.
On Thursday, Duda, a pretty active Twitter user, took to the website to challenge reports that his wife had snubbed Donald Trump by refusing to shake his hand. He called the claim false and urged readers — in all caps — to fight fake news.
Contrary to some surprising reports my wife did shake hands with Mrs. and Mr. Trump @POTUS after a great visit. Let's FIGHT FAKE NEWS.

— Andrzej Duda (@AndrzejDuda) July 6, 2017
Yesterday, an isolated GIF of Polish First Lady Agata Kornhauser-Duda showed her brushing past Trump's outstretched hand and seemingly making a beeline for Melania Trump. The moment went viral almost instantly and was widely picked up on sites across the Internet, including this one.
More complete footage that was retweeted by President Duda, showing that his wife in fact shook Trump's hand immediately afterwards.
Polish first Lady Agata Dudas did shake President Trump's hand, see full video. pic.twitter.com/BOw5tY4R4R

— Beatrice-Elizabeth (@MissBeaE) July 6, 2017
The handshake hiccough not withstanding, the President's Poland's visit was largely a success. Duda and Trump seemed to get along well, and during a major speech in Warsaw, Trump reaffirmed his committment to NATO and the principles of collective defense (and his desire to force NATO members to pay more for it). More significantly, he even took a shot at Vladimir Putin and urged the Russian leader to stop meddling in Ukraine, Syria and elsewhere.
Trump's Polish Thursday was only the pre-show to far greater meetings in Hamburg during the G-20 and his much anticipated one on one with Putin himself.
[image via screengrab]
Have a tip we should know? tips@mediaite.com