Police Dept. Kindly Asks You Refrain From Calling 911 When You're Pissed Off About Trump and Clinton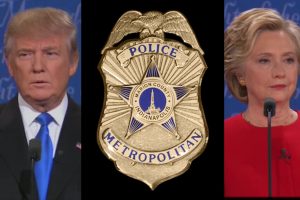 Let's just get right down to it — politics is a bloodsport. It's nasty and tempers fly high in the spirit of true democratic debate, and sometimes people can take their political passions just a bit too far.
Just ask the Lawrence, Kansas police department who took to its social media yesterday to kindly remind the members of the local community to taper their anger during the Hofstra University debate between Hillary Clinton and Donald Trump.
REMINDER
We realize politics can make emotions run high, but being mad at a presidential candidate in a debate is NOT a reason to call 911.

— Lawrence Police (@LawrenceKS_PD) September 26, 2016
And given who the two candidates were on stage last night, the people of Lawrence might have a lot to riot over.
During the 2016 Kansas Caucus, Douglas County (where Lawrence is located) voted overwhelmingly in favor of Texas Senator Ted Cruz; Cruz earned 48.2% of the vote statewide, trouncing Donald Trump by a healthy margin.
Hillary Clinton didn't fare much better during the spring Caucus; Vermont Senator Bernie Sanders took home 67.7% of the vote statewide compared to only 32.3% for Clinton.
No wonder the residents of Lawrence were getting a little rowdy last night.
The police department followed up their viral plea with another humorous reminder warning against Trump-inspired drinking games:
Additionally, drinking games where you drink every time someone says "yuge" leads to binge drinking, and we discourage that strongly

— Lawrence Police (@LawrenceKS_PD) September 26, 2016
Three cheers for the Lawrence police department. If they were worried about fisticuffs breaking out last night, imagine the backup they're going to have in place for next week's snoozer slugfest between Mike Pence and Tim Kaine.
—
[images via the Wikipedia Commons Repository and screengrabs]
Have a tip we should know? tips@mediaite.com