Politico Reports New Details In Herman Cain Scandal Of Unwanted Sexual Advance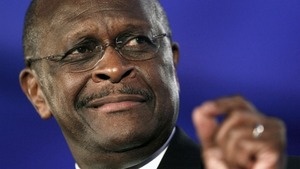 Politico has unveiled even more specific sexual harassment allegations made against Herman Cain. In the late 1990s, a woman working with Cain at the National Restaurant Association notified two people at the time that the Republican frontrunner made "an unwanted sexual advance" towards her at a hotel tied to the group's events. According to sources who were aware of the incident, the woman was "livid and lodged a verbal complaint with an NRA board member that same night."
Politico reports that the woman told one of the sources that "Cain made a suggestion that she felt was overtly sexual in nature and that 'she perceived that her job was at risk if she didn't do it.'"
"She is a pretty confident individual, and she was pretty upset," the source, an acquaintance of the woman, said of her demeanor after the encounter with Cain. "Not crying, but angry."

She described it as an "unwanted sexual advance" to the other source. The woman took the matter immediately and directly to the board member because "she wanted this fixed," the source said.

POLITICO has learned the accusation was also later brought to the attention of another board member as well as the restaurant association's general counsel Peter Kilgore, both of whom are said to have looked into the matter. The woman, who now works in New Jersey, left the NRA in May 1998, shortly after the incident — under an agreement that paid her one-year's salary, in the mid-$30,000s, sources said. The amount of the settlement was first reported by the New York Times.
Have a tip we should know? tips@mediaite.com