President Met with Kathleen Sebelius 18 Times Before Rocky Obamacare Rollout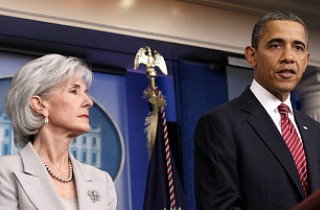 Health and Human Services Secretary Kathleen Sebelius has stressed that President Barack Obama was not aware of the problems associated with the Affordable Care Act prior to the launch of the ACA's online insurance exchange portal on October 1, 2013. On Thursday, documents obtained by The Hill cast doubt on that assertion. An investigation by The Hill's Kevin Bogardus and Jonathan Easley revealed that Obama met with Sebelius at least 18 times in the year prior to the implementation of the ACA, often to discuss the health care reform law.

After reviewing 750 pages of documents The Hill obtained via a Freedom of Information Act request show that, between October 12, 2012, and October 6, 2013, Sebelius met personally with Obama. On seven of those 18 occasions, the two were slated to discuss the ACA's implementation, according to Sebelius' draft schedule.
RELATED: Pete Alexander and Jon Karl Tag-Team Carney on Conservative Sebelius WH Visits Report
Sebelius also met with a number of White House advisors close to the president multiple times over the course of that year, including former White House Counselor Pete Rouse, Senior Advisor Valerie Jarrett, and White House Chief of Staff Denis McDonough.
The schedules suggest Sebelius was an active White House presence in the months leading up to the botched rollout, and raise new questions about why Obama wouldn't have known about the problems that were exposed on Oct. 1.
The documents also reveal that Sebelius met personally with influential journalists and columnists like former Washington Post reporter Ezra Klein on August 2 and New York Times columnist Thomas Friedman on April 23.
"Less than a month later," The Hill reports, "the Times ran a Friedman column about how the number of healthcare information startups was evidence Obamacare 'already appears to be surprising on the upside.' Friedman said in the piece that HHS connected him with the companies he profiled."
Asked for comment, HHS told The Hill that Sebelius is a regular visitor to the White House, as the documents show, and that the implementation of the ACA requires coordination across many agencies and institutions in order to ensure that it rolled out smoothly.
In December, when a false report claimed Sebelius had visited infrequently, pre-ACA rollout, the HHS provided the following to Mediaite:
Secretary Sebelius has been to the White House countless times since becoming Secretary. She is frequently at the White House for meetings related to the implementation of the Affordable Care Act, including dozens with the President in the last year alone. In fact, she met with the President just this Thursday.
Read the full report via The Hill
[Photo via Martinez Monsivais/AP]
— —
> >Follow Noah Rothman (@NoahCRothman) on Twitter
Have a tip we should know? [email protected]