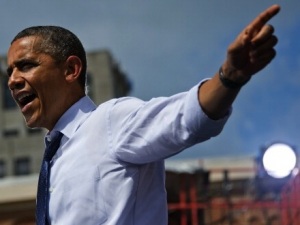 Months after officially coming out in favor of gay marriage, the White House affirmed today that President Obama opposes the Boy Scouts' policy of banning openly gay individuals from joining the group. When former White House press secretary Robert Gibbs was asked about what President Obama thinks of the policy, Gibbs did not say whether or not the president approves of it, but in a statement to the Washington Blade today, the White House makes the president's opposition to the policy unequivocal.
RELATED: Chuck Norris Accuses Obama Of Turning The Boy Scouts Gay
White House spokesman Shin Inouye sent this statement to the Blade in response to an inquiry about Obama's position on the anti-gay policy of the Boy Scouts.
"The President believes the Boy Scouts is a valuable organization that has helped educate and build character in American boys for more than a century. He also opposes discrimination in all forms, and as such opposes this policy that discriminates on basis of sexual orientation."
However, Inouye added that Obama would still hold the unofficial position of honorary president of the Boy Scouts despite his disagreement with the policy. When Mitt Romney's campaign was asked for the Republican candidate's position on the policy last Saturday, they told reporters Romney's position is the same as it was in 1994, when Romney said that while he supports the right of the Boy Scouts to make their own policy, "I feel that all people should be able to participate in the Boy Scouts regardless of their sexual orientation."
h/t HuffPo
[Image via]
Have a tip we should know? tips@mediaite.com
Josh Feldman - Senior Editor