Pro-Bernie Sanders HuffPo Freelancer Picked the Wrong Michelle Obama to Mess With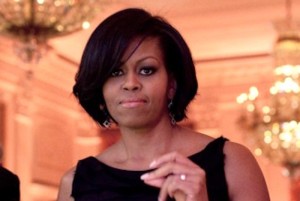 Or maybe he picked the right one. For the past day or so, my Twitter feed has been popping with angry tweets about some pro-Bernie Sanders blogger at The Huffington Post slamming First Lady Michelle Obama, while arguing in favor of a Jane Sanders First Ladyship. Nobody was linking the piece, though, so it wasn't until I saw it at Wonkette this morning that I was able to evaluate this bizarre bit of political trolling for myself.
The author of the piece, Michael Sainato, has managed to create a specimen of cliché Bernie Sanders supporter so pure, it could have been extracted from the brain stem of an Obama voter and grown in a laboratory. What's the only thing left for a Sanders supporter to do to alienate black voters after snippily lecturing them about civil rights? How about attacking Michelle Obama, does that do it for you?
The past three first ladies; Michelle Obama, Laura Bush, and Hillary Clinton all share a common insincere, yet polished, demeanor inherent with an affluent lifestyle. Senator Bernie Sanders' wife, Jane O'Meara Sanders provides an authentic alternative to the status quo of affluence inherent in Washington D.C.
If not, he also throws in some pretty yellow trashing of Hillary Clinton's stint as first lady, one of the most consequential in history:
In contrast to Bernie Sanders' opponent, Hillary Clinton, her marriage to Bill Clinton has a litany of Bill's alleged improprieties looming over it. Their relationship appears emblematic of Hillary Clinton herself; staged, pretentious and predicated on political expediency. They relate only to the country club crowds of which their combined net worth of over $100 million makes them a part of.
He also goes after President Obama for good measure, but it was his inclusion of Michelle Obama that proved to be a red cape because she is the most beloved of all God's first ladies. She's very popular, and as clearly an undeserving a target as there is.
That's probably the point, though. Sainato is a freelance writer, which is one of the suckiest ways to make a living since Ron Jeremy fired his last fluffer. Everybody wants you to work for free, and when they do pay you, they don't want to pay you, and when they do pay you well, they think they own you. A good viral political screed can be a ticket out of that misery.
The problem is that aside from a gig in the Sanders press shop, a job posting that probably has a pretty short shelf life, where is trashing Michelle Obama supposed to get you? I don't even think The Nation is hiring Berners who are that dead-end.
Far be it from me to blow up Sainato's spot, though. Good luck, bro.
Official White House Photo by Pete Souza
This is an opinion piece. The views expressed in this article are those of just the author.