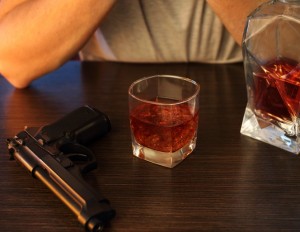 If firing off a few rounds at the gun range or having a couple of drinks at the neighborhood dive just aren't that fun anymore, then you'd better move to Daytona Beach, Florida. That's because the city commissioners just approved plans for a combination shooting range and restaurant, the latter of which will serve alcohol.
Commissioners voted Wednesday night on whether or not to approve the plans. Only one, Commissioner Ruth Trager, voted against the range and restaurant's application over concerns about determining whether or not potential customers are sober, felons or both.
So why the volatile mix? Aside from how loudly it screams #America, developer Ron Perkinson says his new establishment must sell alcohol in order to make money. Back in June, he told WKMG that workers would be trained just like cops to handle the rather unique crowds his establishment would attract.
"If they're renting a handgun, or if they were bringing their own, they would do the paperwork, scan their ID," Perkinson explained. "[Workers] will be trained to visually look at the person, look at their eyes [and] look at their pupils, just like an officer would."
The developer did acknowledge his detractors, and even admitted the validity of their concerns. In fact, he said they were "right." Yet Perkinson insists he is "not trying to mix the two," but only wants to "give you a nice meal before you go home. If you choose to have an alcoholic beverage and go home, that's on you."
[h/t CBS News/Associated Press]
[Image via Shutterstock.com]
— —
>> Follow Andrew Husband (@AndrewHusband) on Twitter
Have a tip we should know? tips@mediaite.com