'Pure Vanity': Fox's Joe Buck Opens up About Hair-Plug Addiction That Nearly Cost Him His Career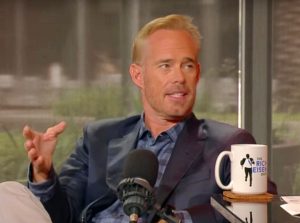 For the first time, Joe Buck opened up about the vocal cord ailment which kept him off the air for months in 2011. After years of concealing the truth, the longtime Fox broadcaster admits he was addicted to hair plugs, and a botched transplant led to the vocal cord damage that nearly cost him his career.
"Broadcasting is a brutal, often unfair business, where looks are valued more than skill," Buck wrote in his new memoir called Lucky Bastard: My Life, My Dad, And The Things I'm Not Allowed To Say On TV. "I was worried that if I lost my hair, I would lose my job. O.K., that's bullshit. It was vanity. Pure vanity. I just told myself I was doing it for TV."
Buck began receiving the transplant in 1993, when he was 24, according to Sports Illustrated — which shared the book passages and interviewed the broadcaster. After that initial procedure, Buck said he would receive treatments whenever he had a break in his schedule.
Here's the story behind the botched 2011 procedure, written by SI's Richard Deitsch:
A few weeks before the start of the 2011 baseball season, Buck underwent his eighth hair replacement procedure. But something went wrong during the six-hour-plus procedure. When he woke up from the anesthetic, Buck could not speak. He believes his vocal cord was paralyzed because of a cuff the surgery center used to protect him during the procedure. A doctor not part of the operation theorized to Buck that the cuff probably got jostled during the procedure and sat on the nerve responsible for firing his left vocal cord.
Buck admitted to Deitsch that he was embarrassed by the reason behind his prolonged absence from the Fox airwaves.
I was lying. I think people bend the truth all the time, unfortunately. It was really for self-preservation and ego for me. As I look back, I gave partial truths. Where I lied was when I said the reason why. People would ask, 'Why is your vocal cord paralyzed?' I said it was a virus. I didn't say it was an elective procedure to add hair to the front of my head. It was embarrassing. There's an embarrassing element to that.
Check out the complete interview here, via Sports Illustrated
[image via screengrab]
–
Follow Joe DePaolo (@joe_depaolo) on Twitter
Have a tip we should know? tips@mediaite.com
Joe DePaolo - Senior Editor