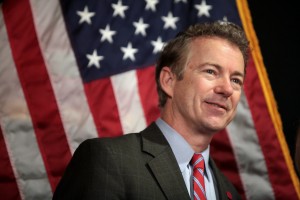 Rand Paul blasted the U.S. Refugee Admissions Program Friday, telling radio host Jeff Kuhner the Boston bombers were "coddled" and given "free stuff" as refugees, but still "decided to attack us."
The Republican presidential candidate said the refugee screening process is "absolutely not" rigorous enough to allow migrants into the United States. "The fact that we had two Iraqi refugees posing as refugees come into our country and want to attack us with stinger missiles shows that it wasn't, and I don't believe still is, very rigorous," he said.
"The Boston bombers came here as refugees," Paul noted. "We coddled them, we gave them free stuff, we gave them free housing, and yet, they decided to attack us, so there's a great risk."
Despite accusations that Tamerlan and Dzhokhar Tsarnaev moved to the United States through the refugee program, the family never applied for refugee status to gain entry into the country. Instead, their family arrived on a six-month visa and applied for political asylum once they were in the United States.
"It's a mistake for the Obama administration to downplay the risk," Paul said, adding he fought the Obama administration "all week in the Senate and I promise you this battle's not over."
Last week, Paul introduced a bill to put a moratorium on U.S. visas for refugees; in a speech to congress, the Kentucky senator argued, "…when the poem beneath the Statue of Liberty says 'give me your tired, give me your poor,' it didn't say come to our country and we'll put you on welfare."
[h/t Buzzfeed]
[Image via Wikimedia Commons]
—
>> Follow Elizabeth Preza on Twitter (@lizacisms)
Have a tip we should know? [email protected]