Reagan's Son Accuses The Butler of Falsely Portraying His Father as a 'Racist'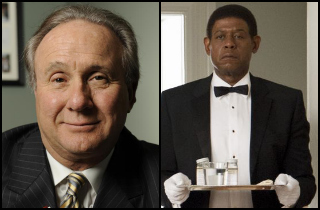 In a Tuesday column for NewsMax, Michael Reagan accused Lee Daniels' The Butler of falsely portraying his father, President Ronald Reagan, as a "racist."
"There you go again, Hollywood," Reagan began. "You've taken a great story about a real person and real events and twisted it into a bunch of lies." Not only does Reagan believe the movie inaccurately portrayed his father, he believes it also took too many creative liberties with the life of White House butler Eugene Allen, citing many of the inaccuracies already pointed out byThe Daily Beast.
"It's appalling to me that someone is trying to imply my father was a racist," wrote Michael, the adopted son of Pres. Reagan and his first wife, Jane Wyman. "He and Nancy and the rest of the Reagan family treated Mr Allen with the utmost respect. It was Nancy Reagan who invited the butler to dinner – not to work but as guest. And it was my father who promoted Mr Allen to maître d'hôtel."
Michael asserted that it was "simplistic and dishonest" for the film to suggestion that Ronald Reagan was "racist" because of his support for ending economic sanctions against apartheid South Africa. The facts of Ronald Reagan's life, Michael argued, show otherwise:
If you knew my father, you'd know he was the last person on Earth you would call a racist.

If Strong had gotten his "facts" from the Reagan biographies, he'd have learned that when my father was playing football at Eureka College one of his best friends was a black teammate.

Strong also would have learned that my father invited black players home for dinner and once, when two players were not allowed to stay in the local hotel, he invited them to stay overnight at his house.

Screenwriter Strong also might have found out that when my father was governor of California he appointed more blacks to positions of power than any of his predecessors — combined.
Ultimately, Michael wrote, the movie's depiction of the president is "simply Hollywood liberals wanting to believe something about my father that was never there."
He concluded: "Despite what Hollywood's liberal hacks believe, my father didn't see people in colors. He saw them as individual Americans. If the liberals in Hollywood — and Washington — ever start looking at people the way he did, the country will be a lot better off."
— —
>> Follow Andrew Kirell (@AndrewKirell) on Twitter
Have a tip we should know? tips@mediaite.com