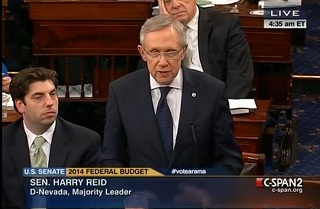 Sen. Harry Reid slammed Supreme Court Justice Antonin Scalia over "racist ideas" reportedly espoused by the associate justice Wednesday during oral arguments in the affirmative action case Fisher v. University of Texas.
During an argument framed against affirmative action, Justice Scalia argued that minority students may not benefit from "being pushed into schools that are too advanced for them." But Wednesday evening, a source familiar with the case clarified that Scalia was summarizing arguments from other cases, as opposed to candidly providing his own commentary on affirmative action.
On the Senate floor Thursday, Reid said Justice Scalia's ideas "are racist in application, if not intent," adding "it is deeply disturbing to hear a Supreme Court justice endorse racist ideas from the bench of the nation's highest court."
"His endorsement of racist theories has frightening implications," Reid said. "Not the least of which is undermining the academic achievement of Americans — African-Americans especially."
Mediaite's own Alex Griswold wrote yesterday that members of the media may have jumped the gun as it pertains to slamming Justice Scalia for his remarks before a full understanding was really known. A source familiar with the situation clarified that Scalia likely referenced other summarized legal arguments when he spoke. Griswold wrote yesterday, "No, Scalia wasn't actually saying he believed that blacks should be content to just go to lesser schools, he was asking about others who had argued as much."
The Democratic leader also compared Scalia's comments to those made by Republican presidential candidate Donald Trump throughout his campaign, insisting "the only difference between the ideas endorsed by Trump and Scalia is that Scalia has a robe and a lifetime appointment."
"The idea that African-American students are somehow inherently intellectually inferior to other students — despicable," he added.
Reid also repeated his criticism of Justice Scalia on Twitter Thursday morning.
150 years ago, our nation resolved to climb out of the deepest, darkest chapter in American history – the insidious institution of slavery.

— Senator Harry Reid (@SenatorReid) December 9, 2015
Justice Scalia's comments yesterday are racist in application, if not intent. It undermines the academic achievements of African-Americans.

— Senator Harry Reid (@SenatorReid) December 10, 2015
The idea that African American students might be inherently intellectually inferior to other students is despicable. https://t.co/sci0wIGqiL — Senator Harry Reid (@SenatorReid) December 10, 2015
[h/t The Huffington Post]
[Image via screengrab]
—
>> Follow Elizabeth Preza on Twitter (@lizacisms)
Have a tip we should know? tips@mediaite.com