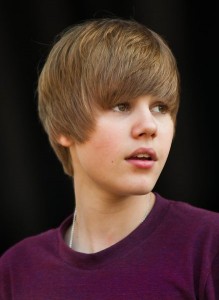 In an incident that's being widely reported on the internet, 16 year-old pop superstar Justin Bieber was accused of assaulting a 12 year-old boy during a game of Laser Tag on Friday. Most news accounts of the incident indicate that, according to the Laser Tag facility's staff, Bieber was singled out and cornered by a group of players, and that Bieber accidentally struck the boy in an attempt to get away. However, TMZ is reporting that the 12 year old who made the assault accusation called Bieber "faggot," and that Bieber did not strike him.

According to Canadian gossip blogger Zack Taylor, an anonymous friend of the alleged victim's father disputes this account, but here's what TMZ is reporting:
We're told that during the game of laser tag, one kid went out of his way to target Justin repeatedly (a violation of the code of honor of laser tag, if there is such a thing).

Sources say that Bieber became frustrated when the kid cornered him and wouldn't stop shooting and when Bieber told him, "That's enough" … the kid responded, "What are you gonna do about it, faggot?"

We're told a shocked Bieber replied, "Excuse me?" Sources say the other kid responded, "You're a faggot" and then put his hand out toward Bieber and Bieber pushed it away as he left.

Contrary to several news reports, we're told Bieber never struck the other boy.
Coming on the heels of a rash of suicides related to anti-gay bullying, this report underscores an oft-ignored facet of anti-gay bullying: you don't have to be gay to become a target.
While the recent suicide of Rutgers student Tyler Clementi has thrust the issue of homophobic bullying into the national media spotlight, this is not a new thing. Last year, we reported on a rash of suicides by much younger children who (like Justin Bieber) did not identify as gay, but who were targeted with anti-gay slurs, and the efforts of Obama "Safe Schools Czar" Kevin Jennings to combat the trend.
As anyone who has ever attended grade school can tell you, being called "faggot" has nothing to do with your actual sexual orientation, and as The Edge notes, "a good deal of gay bashing comes from personal gay panic."
This fact shouldn't make a difference, but there are obviously many parents who are unmoved by the plight of LGBT youth who might feel differently if they realized that their own children, gay or not, are also at risk. Organizations like the Gay/Straight Alliance Network aren't about "recruiting" or "brainwashing" young people into homosexuality, but about removing the stigma of being gay. While bullies will always find something to taunt their victims with, there hasn't been an epidemic of "nerd" or "dork"-related suicides.
That is not to say that gay teens aren't at increased risk, as their quadruple suicide rate attests. The sexual orientation of the victim shouldn't make any difference in taking the measure of these tragedies. However, the power of anti-gay slurs to drive children to suicide shows the true cost of homophobia.
While relatively minor, the Justin Bieber incident is likely to receive outsize attention due to his celebrity status. Hopefully, it will also help to start a few conversations about how anti-gay bullying is everyone's problem.
Have a tip we should know? tips@mediaite.com