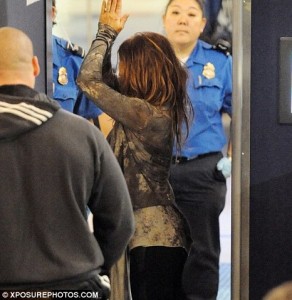 Last week, it was a rape-y threat to democracy as we know it, but this week, the TSA scandal seems almost Norman Rockwell-esque in its fading imprint on our microscopic news cycle. After a two week run as the story, the panic over pat-downs and nekkid scans evaporated faster than you can say "Wikileaks."
While this was entirely predictable, it was still disconcerting that this news item about Black Eyed Peas sensation (and recent recipient of Glamour's Woman of the Year ) Fergie's own TSA scan evoked an odd feeling of nostalgia, the kind usually reserved for a Yakov Smirnoff "What a country!" joke.
A week ago, the coupling of a sexy celebrity and a trip through the sizzling-hot TSA "Porno-scanner" would have warranted a pun-laden trip through Fergie's catalog, but now, it hardly seems worth it to shoe-horn "My Humps" into a TSA gag.
For those of you still interested, though, here's a bit of the UK Daily Mail's report:
The singer was spotted putting her bags through the hand-luggage scanner before taking off her many layers of scarves and other accessories so she could step into the scanner.

She was watched by a bodyguard and accompanied by several friends as she boarded the flight bound for JFK airport in New York.
This is the media world we live in now, zooming from one meme to the next, pausing for breath over the latest bit of Sarah Palin minutiae until the next "Balloon Boy" arrives.
Perhaps saddest of all is the plight of the TSA blogger, who enjoyed a moment in the sun, but is now reduced to debunking two-week-old, unsourced Redstate stories.
A story has been making its way onto a number of blogs about the TSA screening of a military charter arriving at Indianapolis International Airport from Afghanistan. The unattributed story claims TSA confiscated multi-tools and nail clippers, while all on board were allowed to carry military issued firearms. The bottom line is the story is not accurate and couldn't possibly be true.

At Indianapolis International Airport, military charters arrive at the remote transit terminal, exclusive for these types of flights.  TSA staff does not have access to this facility and, we do not conduct any screening operations there. Also, nail clippers have never been prohibited by TSA.
Take heart, though, TSA blogger. Christmas is coming, and with it, a chance for this meme to live again, like a pat-down enforcing, naked body-scanning Frosty the Snowman.
Have a tip we should know? tips@mediaite.com