Report: Congressional Investigators Prepare To Subpoena Eric Holder Regarding 'Fast And Furious'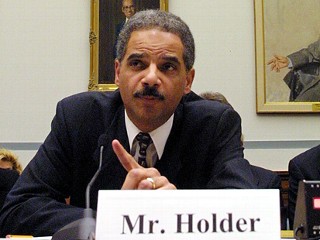 FoxNews.com is reporting this morning that congressional investigators looking into the failed "Fast and Furious" gun-running operation are sending a subpoena to Attorney General Eric Holder in an effort to suss out who, exactly, within the Department of Justice knew about the project and when, with a particular focus on "Holder, his chief of staff, Gary Grindler, and the head of the department's criminal division, Lanny Breuer."
The subpoena, which may be filed as early as today, will specifically demand information about the investigation into the shooting death of U.S. Border Patrol agent Brian Terry, as well as, possibly, correspondence between Justice Department officials and the White House, and information shared by Mexican Justice officials.
RELATED: Driving The News: Fox Covering Fast & Furious 10 Times More Than MSNBC And CNN
In recent weeks, Holder has made efforts to place distance between himself from the operation:
On Friday, Holder sent a letter to congressional investigators stating that he does not read every document addressed to him and that they are reviewed by members of his staff. Holder went on to say that none of the reports mentioned the controversial tactics used in Fast and Furious.

On Monday, Issa, chairman of the House Oversight and Government Reform Committee, which is investigating the scandal, replied to Holder in a letter saying, "Operation Fast and Furious was the Department's most significant gun trafficking case. Whether you realize yet or not, you own Fast and Furious. It is your responsibility."
Holder's awareness of and role within this operation had been a major focal point of CBS News investigative journalist Sharyl Attkisson, who recently spoke with radio host Laura Ingraham about the obstacles she has faced while trying to obtain clarification into comments made by Holder about the correspondence he has received regarding "Fast and Furious."
RELATED: Darrell Issa On Investigation Into 'Fast And Furious': Cooperation With Justice Dept. Close To 'Zero Percent'
Earlier, Rep. Issa had told Fox News' Greta Van Susteren that his committee was receiving close to "zero percent" cooperation from the DOJ.
h/t FoxNews.com
Have a tip we should know? tips@mediaite.com