Earlier today, BP COO Doug Suttles had no good news for local reporters following the company's "top kill" effort to plug the oil well in the Gulf of Mexico, telling them that it had not yet worked and he did not know whether it would be successful yet. And now a few moments ago, CNN International Desk Assignment Editor Nick Valencia is reporting on Twitter that Plaquemines President Billy Nungesser has received and email saying Top Kill has officially failed.
MSNBC reported nearly an hour ago that Suttles had not made any promises on the success of Top Kill today:
BP PLC chief operating officer Doug Suttles told reporters in Grand Isle, Louisiana, that the effort known as a "top kill" has not stopped the flow of oil, and that he doesn't know if the risky maneuver will succeed. He said the company was already preparing its next option to cap the well.

[…]

While Suttles acknowledged that the amount of oil spewing from the leak has not changed, he did not go so far as to say the top kill has failed. "We've said all along this may or may not be successful," Suttles said.

The tricky maneuver started on Wednesday. BP had said repeatedly that it needed another 24 to 48 hours to know whether it would succeed, but backed off of giving time estimates on Saturday.

Engineers may not know until at least Sunday if the fix is successful, and progress was difficult to measure from BP's "spillcam" of mud, gas and oil billowing from the seafloor. Americans have been hypnotized as they watched for any sign of success.
And, now, while there is still no official word from Suttles, Valencia is reporting that an email was sent from BP declaring the project a failure: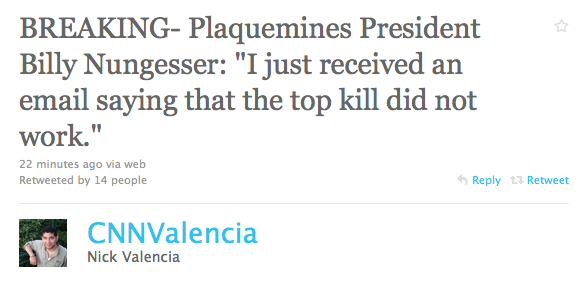 Valencia notes in newer tweets that Nungesser has still not clarified where the email is from or whether we will hear an official statement, so the story is still developing. Valencia's last tweet states: "We're obviously approaching a moment of truth. Still digging for on the record BP comment"
UPDATE: Valencia now stating a press conference has been scheduled at 5PM to clarify the information.
We will update with a definitive word if and when it comes in.
UPDATE #2 (4:04 PM): Fox News now reporting that Top Kill has failed, according to BP:

Have a tip we should know? tips@mediaite.com