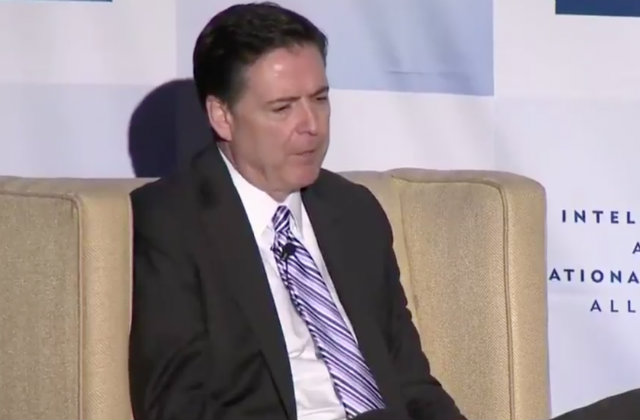 In a late-breaking story from the New York Times on Thursday night, reporter Michael Schmidt noted how James Comey was repeatedly approached by Donald Trump and his associates, in an apparent bid to develop a congenial relationship between the president and the former FBI director.
According to Schmidt's report, Trump short-circuited what Comey considered to be the proper channels and etiquette by requesting information as to when it would be officially acknowledged that the president himself was not personally under investigation.
As previously reported, Trump's team also set up a dinner meeting with Comey where the President is reported to have demanded loyalty of the FBI Director.
Comey, for his part, believed these entreaties jeopardized the independence of the FBI–and for that reason, he tried to keep his distance.
In the report, Benjamin Wittes, a senior fellow at the Brookings Institution, and a friend of Comey's, detailed the comical lengths that Comey went to in order to avoid the President.
From the Times article:
Mr. Comey — who is 6 feet 8 inches tall and was wearing a dark blue suit that day – told Mr. Wittes that he tried to blend in with the blue curtains in the back of the room, in the hopes that Mr. Trump would not spot him and call him out.

"He thought he had gotten through and not been noticed or singled out and that he was going to get away without an individual interaction," Mr. Wittes said Mr. Comey told him.

But Mr. Trump spotted Mr. Comey and called him out.
That's right. Comey actually tried to hide behind a curtain in order to keep away from Donald Trump.
Read more here, via the New York Times
Have a tip we should know? tips@mediaite.com