Report: Julian Assange Fears Writing Memoir Could 'Give U.S. Prosecutors Ammunition'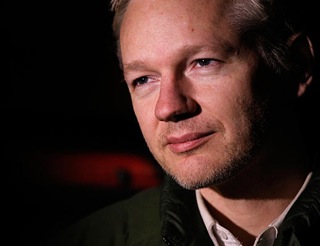 The epic Julian Assange-penned Wikileaks memoir scheduled to be released last April seems to have run into a bit of trouble. According to a new report from The Guardian, the book deal may have fallen through due to Assange's fears that publishing his story would strengthen a potential case against him in the United States. While the publishers, Canongate and Knopf, have refuted claims that the deal has fallen through, they have also refused to discuss the book.
Assange initially claimed to have taken the opportunity to write a book in part to pay his astronomical legal fees, and now it appears that those legal problems are precisely the source of discord between Assange and his publishers. The deal had been signed in December for a reported £930,000, and the book was set to go to print in 35 countries. While the publishers have given no official word on the project, The Guardian reports that the book, as it was initially meant to be written, is dead:
According to publishing sources, however, the contract has fallen through, at least in its original form, after Assange indicated he no longer wished to write the kind of book that was initially envisaged.

He is thought to have told publishers that the book, ghostwritten by the novelist Andrew O'Hagan, could give ammunition to US prosecutors, whom he fears may seek his extradition on terrorist charges relating to WikiLeaks disclosures.
Part of the reason given for the publisher keeping quiet about the project is that Assange is scheduled to go to court once again next week, though a spokeswoman told The Guardian that the project is "very much alive." Given Assange's notoriously mercurial nature, however, this project has been in theory up in arms since it was initially announced last December. Fortunately for film fans, the Julian Assange Hollywood biopic project, however, is progressing swimmingly.
Have a tip we should know? tips@mediaite.com