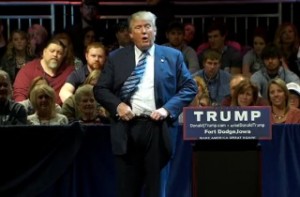 In breathlessly covering the outrageous theatrics of the Trump campaign, the media and the national press has done the American electorate a grave disservice by failing in their duties to vet the candidate's qualifications, his proposed policies, and his past dealings.
This is according to a new report from Media Matters published Thursday, which draws on a series of interviews with several prominent journalists and historians.
The report by Joe Strupp argues that despite the wall-to-wall coverage he has received, "Trump has so far managed to avoid facing the kind of intense press scrutiny usually devoted to a leading presidential candidate."
Former CBS News correspondent Eric Engberg called the spectacle "pathetic." Not only had Trump managed to deflect any substantive discussion of his record, his outrageous behavior had paved the way for future blowhards to milk free advertising from the networks. "Donald Trump has provided the map for the next guy who comes along. We are not seeing the end of this. He has shown every jerk in America how to make a run for president and not spend any money," Engberg said.
Another veteran of covering presidential campaigns, Walter Shapiro, called the Trump coverage to be "one of the most shocking things of the last 30 or 40 years."
The veteran writers cited in the report include Pulitzer Prize-winning historians and journalists like Doris Kearns Goodwin, author of The Bully Pulpit and Team of Rivals; Clark Hoyt, former Washington bureau chief for Knight-Ridder; and AP's Walter Mears, who has covered every presidential election from 1960 to 2000.
Other voices include authors who have written multiple books on Trump, and reporters and columnists for the Des Moines Register, New York Times, Los Angeles Times, among many others. Together they paint a damning portrait of the press for being distracted by the sensationalism of Trump's antics and neglecting to probe his business background, much of which, Strupp notes, remains unknown.
The report is worth reading in full here.
[h/t Media Matters]
This is an opinion piece. The views expressed in this article are those of just the author.