REPORT: Over Half of Voter Intimidation Complaints Today Are Coming From Pennsylvania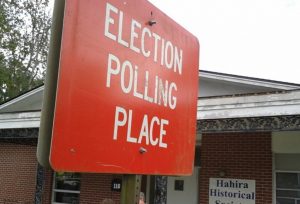 A report from Politics USA indicates that of all of the calls placed to Election Protection today by voters looking to report intimidation at the polls, about half have been coming from Pennsylvania. As you probably know, Pennsylvania is a must-win for Hillary Clinton or Donald Trump, both of whom have been trying to win the state on their journey to 270 electoral college votes.
According to NBC News, many voters in the Philadelphia area are being asked for ID in spite of the fact that it is not needed to vote in the state. A voter told NBC that their poll worker must not have been trained very well, but others see this as a sign of voter intimidation.
Politics USA pointed out that "Pennsylvania state law does require identification for new voters or voters voting in a new location, but a driver's license or photo ID is not required."
While campaigning in Pennsylvania, Trump has made comments to supporters at overwhelmingly white rallies indicating he expects them to "monitor" polling places in "certain areas" because of his conviction that the system is "rigged." That was largely decried as being racist every time he said it and the request for ID in more populated, urban areas of the state today is also striking some as being racially motivated.
If you or anyone you know is experiencing what you believe to be voter suppression or intimidation, call Election Protection at 866-OUR-VOTE. Voting is your right.
[image: John S. Quarterman]
Have a tip we should know? tips@mediaite.com