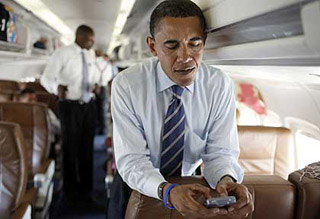 A new survey completed by The Pew Internet and American Life Project finds an increasing number of Congressmen actively using social media, as the times call for them to do. According to the survey, three-quarters of Americans age 18 to 29 are using social media, one-third of whom say they use it to connect with government officials on Facebook (where 83 percent of Congress can be "liked") or Twitter (used by 83 percent of Congress).
Republicans have an edge over their Democratic peers when it comes to Twitter, with 86 percent of congressmen on the right side of the aisle tweeting compared with only 75 percent from the left. A busy Twitter stream is a must-have this campaign season, it seems. After all, worked for Barack Obama, who ran an aggressive social media campaign in 2008 and then became the first president to send a tweet.
Social media consultants and campaign consultants are remain insistent that politicians could be even better online if they would send less canned tweets and instead worked to interact and engage their constituents. The millennial generation "practically lives online" and so "social media should be a catalyst for political dialogue," the report says.
Additionally, a politician's willingness to participate in social media can demonstrate that they are in-touch. As Matthew Segal, the co-founder and president of Our Time, an organization created to bolster the voice of young Americans, explains, "Members of Congress have an obligation to stay on top of new emerging trends and culture because they represent the American people, and that's what the American people are using and consuming every single day." Twitter, it's the American way.
Have a tip we should know? tips@mediaite.com