REPORT: Some of the Old Apprentice Footage Allegedly Features Trump Using the N-Word
To catch you up, there have been rumors of unaired Apprentice footage that is "far worse" than anything uncovered by the leaked audio of Donald Trump talking about women in lewd terms during a 2005 Access Hollywood interview. Reports have indicated that all of that old footage will be kept under lock and key because Trump-backing producer Mark Burnett has threatened to sue anyone who leaks it.
As a producer on seasons 1 & 2 of #theapprentice I assure you: when it comes to the #trumptapes there are far worse. #justthebegininng

— Bill Pruitt (@billpruitt) October 8, 2016
Well, we may not get to hear the audio from those old tapes, but it has been described for us. Chris Nee is an Emmy-winning producer who made it clear that while he doesn't have the tapes, he has heard from crew members what is on them and what Burnett is trying to protect Trump from.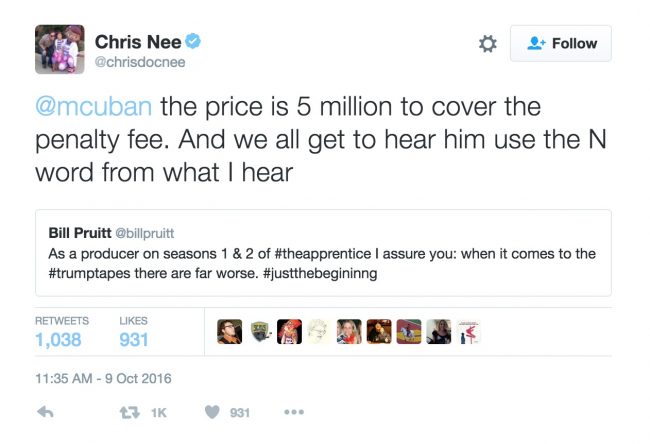 I don't have the tapes. I've signed a Burnett contract & know leak fee is 5 mill. Hearing from producers/crew N word is the "much worse".

— Chris Nee (@chrisdocnee) October 9, 2016
Again I don't work for the apprentice. I haven't heard any actual tapes of anything. Just… people are saying.

— Chris Nee (@chrisdocnee) October 9, 2016
Folks, I have never worked on The Apprentice. I don't know what's out there. Or what still exists. I've heard rumors. Would love to know.

— Chris Nee (@chrisdocnee) October 9, 2016
So, with Burnett threatening legal action, the penalty for the leak would be $5 million. Still, in the replies to Nee's tweets, there are plenty of suggestions for GoFundMe fundraisers and as you can see, he did tag Mark Cuban, a Hillary Clinton supporter with a lot of cash on hand…
UPDATE — 6:45 p.m. EST:
It wasn't Cuban after all, but someone is hinting they're going to pay that leak fee.
According to Buzzfeed News, David Brock, who is the founder of American Bridge and is also a huge Clinton ally, has said he wouldn't mind shelling out the cash. In an email to the site, he said this:
If a $5 million "leak fee" is what stands between truth and total Trump implosion, sign me up.
Whether any Apprentice staffers see his offer and choose to leak the footage in the hopes that he'll cover their legal fees remains to be seen.
[image via Gage Skidmore]
Have a tip we should know? [email protected]