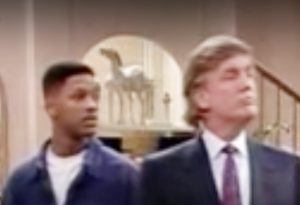 If you've seen Home Alone 2 or The Little Rascals, you already know that Donald Trump used to get a kick out of playing himself in movies. According to a new Newsweek report, producers in the entertainment industry described him as someone who "wasn't a hard get" because he would be in any movie as long as he could highlight his fame and wealth. To that end, they also described him as "incredibly pompous."
One of the most interesting parts of the Newsweek report is the story of Trump's appearance alongside then-wife Marla Maples on The Fresh Prince of Bel-Air. The article says this:
According to a member of the crew—who spoke on condition of anonymity because she fears jeopardizing her current job—Trump threw a small tantrum backstage. He was holding a paper-clipped stack of pages with his lines when he became annoyed about something. He motioned as if to hand them off to Maples and, when she reached for them, threw them all over the floor so the pages went flying.
Maples was reportedly extremely apologetic for her husband's behavior and told Fresh Prince production staff not to worry about helping her clean the mess. No one could remember exactly what set Trump off, but executive producer Gary H. Miller was able to recall that Trump was worried his lines weren't funny enough.
"I would never think of giving you any advice about real estate, because I don't know about real estate," he said he told the mogul. "But I do know comedy—and trust me, you'll get a laugh."
[image via screengrab]
Have a tip we should know? tips@mediaite.com