Report: White House Had Bill Clinton Talk To Joe Sestak About Dropping Out (Updated)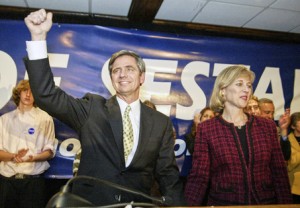 At the end of yesterday's presidential press conference, Fox News' asked the final two-part question – and one part was about PA Rep. Joe Sestak and his run in the Pennsylvania Democratic primary against Sen. Arlen Specter. At the time, Pres. Obama said he was not ready to speak about it, but "there will be an official response shortly on the Sestak issue, which I hope will answer your questions…When I say shortly, I mean shortly, I don't mean weeks or months." Today, the Washington Post and the New York Times are reporting that the White House involved Bill Clinton in the Sestak issue.
According to reports, Rahm Emanuel had Clinton speak with Sestak about his run, and whether he would be open to other options. More specifically, a "prominent, but unpaid, advisory position." The White House reportedly did not offer Sestak a full-time, paid position because Emanuel wanted him to remain a House representative.
Emanuel asked Clinton to explore possibilities for Sestak last summer, and Sestak had vaguely mentioned the job offer in February. Sestak, however, denied the position, and went on to win the Pennsylvania primary.
The White House "maintains that the Clinton-Sestak discussions were informal" and were only intended to "gauge his seriousness about the race." Obama has said that "nothing improper took place."
Update: The White House has released an official memo. It states that the "allegations of improper conduct rest on factual errors and lack a basis in the law," but confirms the job offer and Clinton's involvement:
"Efforts were made in in June and July of 2009 to determine whether Congressman Sestak would be interested in service of a presidential or other Senior Executive Branch Advisory Board, which would avoid a divisive Senate primary, allow him to retain his seat in the House, and provide him with an opportunity for additional service to the public in a high-level advisory capacity for which he was highly qualified.

White House staff did not discuss these options with Congressman Sestak. The White House Chief of Staff enlisted support of former President Clinton…Congressman Sestak declined the suggested alternatives, remaining committed to his Senate candidacy."
Have a tip we should know? tips@mediaite.com