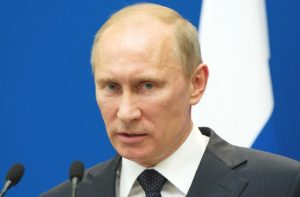 According to two separate reports flagged by The Washington Post, the rise of "fake news" in the run-up to the 2016 presidential election was attributable in part to Russian propaganda and astroturfing.
The cybersecurity experts penned the first report, entitled "Trolling For Trump: How Russia Is Trying To Destroy Our Democracy." "Russia is helping Trump's campaign, yes, but it is not doing so solely or even necessarily with the goal of placing him in the Oval Office. Rather, these efforts seek to produce a divided electorate and a president with no clear mandate to govern. The ultimate objective is to diminish and tarnish American democracy," they write.
The experts contend that Russian government pushes its message with a combination of "white" and "black" sources. The "white" sources are outlets that RT and Sputnik that are explicitly backed by Russia and repeats their propaganda. The "black" sources are the anonymous trolls and hackers that spread fake news and hack Western government officials.
Meanwhile, another group called "PropOrNot" will release its own report Friday detailing Russian efforts to push fake news stories. "PropOrNot's monitoring report, which was provided to The Washington Post in advance of its public release, identifies more than 200 websites as routine peddlers of Russian propaganda during the election season, with combined audiences of at least 15 million Americans," The Post reports. "On Facebook, PropOrNot estimates that stories planted or promoted by the disinformation campaign were viewed more than 213 million times."
In perhaps the ultimate display of irony, the comment section on the  The Post story revealing the extent to which Russian trolls pushed fake news during the election has become inundated with Russian trolls.
[Image via Shutterstock]
—
>>Follow Alex Griswold (@HashtagGriswold) on Twitter
Have a tip we should know? tips@mediaite.com