Review Of Benghazi Attack Blames State Dept's 'Systemic Failures,' 'Grossly Inadequate' Security
Review Of Benghazi Attack Blames 'Systemic Failures,' 'Grossly Inadequate' Security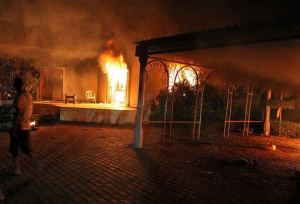 An independent review placed blame for the attack on the U.S. consulate in Benghazi, Libya on "systemic failures" and "management deficiencies" within the State Department. It also confirmed that there was no protest outside the consulate.
The attack, you'll recall, killed Ambassador Chris Stevens and three other Americans. Two senior members of the Accountability Review Board will testify on the findings of the report before the House and Senate foreign affairs committees.
"Systemic failures and leadership and management deficiencies at senior levels within two bureaus of the State Department resulted in a Special Mission security posture that was inadequate for Benghazi and grossly inadequate to deal with the attack that took place," the panel said.
About security specifically, the highly critical report cited "a lack of proactive leadership and management ability in their responses to security concerns posed by the Special Mission Benghazi, given the deteriorating threat environment and the lack of reliable host government protection." The security staff was inadequate despite repeated requests for additional personnel, the board said.
However, no individual officials "breached his or her duty."
Secretary of State Hillary Clinton thanked the board for a "clear-eyed, serious look at serious systemic challenges" and accepted the recommendations. Per the AP:
She said the department had already begun to implement some of the recommendations. They include increasing by several hundred the number of Marine guards stationed at diplomatic missions throughout the world; relying less on local security forces for protection at embassies, consulates and other offices; and increasing hiring and deployment of highly trained Diplomatic Security agents at at-risk posts.

Clinton agreed with the panel's finding that Congress must fully fund the State Department's security initiatives. The panel found that budget constraints in the past had led some management officials to emphasize savings over security, including rejecting numerous requests from the Benghazi mission and the embassy in Tripoli for enhanced protection.
Clinton was scheduled to testify tomorrow — but will be unable to after she fainted and sustained a concussion last week. Dehydration from a stomach virus caused the fall. She has been recovering at home.
An unclassified version of the review was released on Tuesday. You can read it here.
(h/t AP)
Have a tip we should know? tips@mediaite.com