Robin Thicke Admits He Was High on Vicodin, Didn't Actually Write 'Blurred Lines'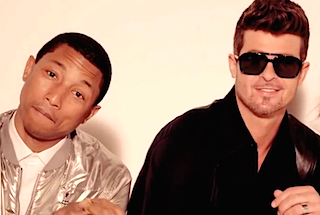 The transcript for a hearing over a copyright lawsuit regarding Robin Thicke's Grammy-nominated "Blurred Lines" song has been released and it is full of insane details about the singer and the making of that song. Both Thicke and his "co-writer" Pharrell Williams delivered sworn testimony, which was obtained by The Hollywood Reporter's Eriq Gardner and posted online in full Monday.
The case hinges on accusations by the children of Marvin Gaye, who claim the song rips off their father's 1977 hit "Got to Give It Up." Thicke, Williams and a third writer Clifford "T.I." Harris Jr actually filed a preemptive lawsuit against the Gaye family to protect the song from what they felt was unfair disparagement.
In testimony from April, Thicke admits that while he previously claimed in an interview with GQ that he was inspired by Gaye's song to make "something with that groove," that's not actually what happened.
"I was jealous and I wanted some of the credit," Thicke testified. "I tried to take credit for it later because [Williams] wrote the whole thing pretty much by himself and I was envious of that." When the questioner asked Thicke specifically about how the song's rhythm track came to be, here's what he said:
"I was high on Vicodin and alcohol when I showed up at the studio. So my recollection is when we made the song, I thought I wanted — I — I wanted to be more involved than I actually was by the time, nine months later, it became a huge hit and I wanted credit. So I started kind of convincing myself that I was a little more part of it than I was and I — because I didn't want him — I wanted some credit for this big hit. But the reality is, is that Pharrell had the beat and he wrote almost every single part of the song."
At another point, Thicke admitted that he "didn't do a single interview last year without being high" and was just "lucky enough to be in the room" when the hit song was written.
In his deposition, Williams gave Thicke credit for making the song what it is with his voice, but when he was asked whose words were used in the lyrics, he answered "mine."
Read more details from the bizarre proceedings at hollywoodreporter.com.
Here's a good comparison of the two songs. Decide for yourself how much Marvin Gaye's track influenced Robin Thicke's:
[Photo via screengrab]
— —
>> Follow Matt Wilstein (@TheMattWilstein) on Twitter
Have a tip we should know? tips@mediaite.com