Rolling in the Deep Trouble: Adele Clarifies Trump Does Not Have Permission to Play Her Music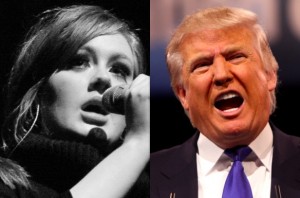 Ah yes, in the newest chapter of the book one could write about artists who have refused Donald Trump the rights to play their music, world sensation Adele has released a statement clarifying that the GOP frontrunner does not have permission to play her hits.
A handful of popular Adele tracks have become staples for Trump rallies; hits including "Rolling In The Deep" and the theme to Skyfall are regularly blasted out from speakers before the real estate mogul takes the stage. A spokesperson for Adele has released a statement noting, "Adele has not given permission for her music to be used for any political campaigning."
In November, Trump attended an Adele concert at Radio City Music Hall in New York; reports indicated that he cut the line of concert goers to the dismay of those around him.
Steven Tyler of Aerosmith very publicly bashed The Donald in the Fall for using the hit song "Dream On" for campaign events, and the artist went as far as to issue a cease and desist letter. In September, REM also aggressively sought to eliminate the Trump campaign from using their hit song "It's The End Of The World"; lead singer Michael Stipe said emphatically in a statement, "Go fuck yourselves, the lot of you — you sad, attention-grabbing, power-hungry little men," referring to politicians who angled to use the band's music.
Adele has so far refrained from such profanity, but we will update this post if a more serious response comes from the singer.
[h/t The Independent]
—
J.D. Durkin is the Senior Editor of Mediaite. You can follow him on Twitter @MediaiteJD.
Have a tip we should know? tips@mediaite.com