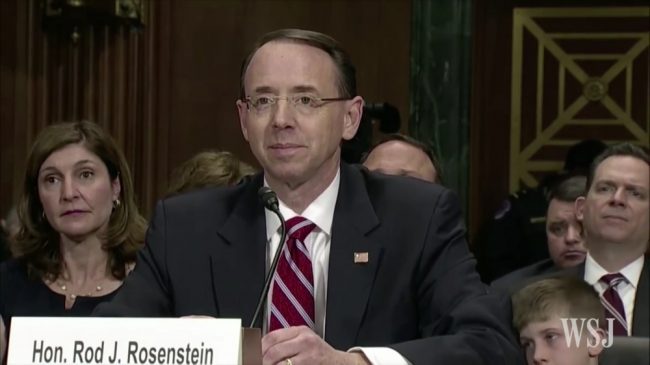 In a meeting with the full Senate today, Deputy Attorney General Rod Rosenstein revealed that he actually knew that President Donald Trump was going to fire FBI Director James Comey before he wrote his memo recommending Comey's termination.
Per the Washington Post, Sen. Dick Durbin (D-IL) said that Rosenstein told the senators that he knew of the upcoming firing last Monday, the day before the president officially canned Comey. Rosenstein further stated that he didn't feel compelled or pressured into writing his letter.
Following Comey's firing, Rosenstein's memo was used by the White House as the basis for the president's decision. However, Trump stepped all over that during his interview with NBC News' Lester Holt when he stated that he had made up his mind before receiving any recommendation from the Justice Department. (He also indicated that the Russian investigation could have played a part.) And today, Trump backtracked somewhat, once again pointing to Rosenstein's memo when discussing the termination.
It was reported shortly after the Comey firing that Rosenstein was furious with the narrative that he was the main person behind the decision, even going so far as threatening to resign. (He later denied that he considered quitting.)
In the aftermath of Comey's firing and other blockbuster stories surrounding the White House and Trump, Rosenstein appointed former FBI Director Robert Mueller as a special counsel of the Russia probe. Following today's Senate meeting, Sen. Lindsey Graham (R-SC) said that the probe "is now considered a criminal investigation," based on what he heard from Rosenstein.
[image via screengrab]
—
Follow Justin Baragona on Twitter: @justinbaragona
Have a tip we should know? tips@mediaite.com