Roy Moore Sprints to Breitbart To Accuse WaPo of 'Fake News' For Teenage Sex Abuse Story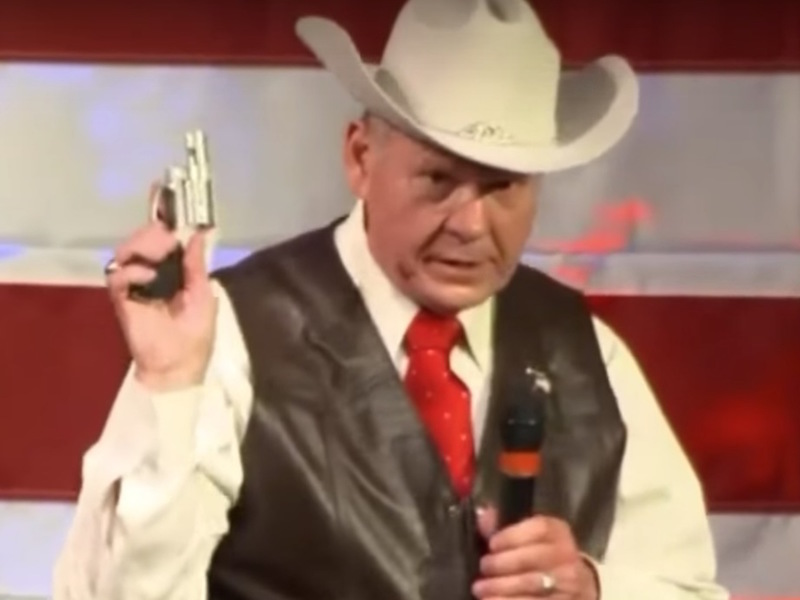 Judge Roy Moore, who is running for Alabama Senate, has just been accused of attempting to initiate relationships with four teenagers when he was in his 30s, with one woman saying he sexually abused her when she was just 14.
"I wanted it over with — I wanted out," Leigh Corfman told the Washington Post, noting that he guided her hand to his penis. "Please just get this over with. Whatever this is, just get it over."
Moore has vehemently denied any wrongdoing, and attempted to get ahead of the story by sending a statement to Breitbart just moments before the Washington Post story dropped.
"These allegations are completely false and are a desperate political attack by the National Democrat Party and the Washington Post on this campaign," Moore wrote.
The senate candidate's campaign also sent the right-wing news entity a statement, accusing Washington Post of defamation.
"This garbage is the very definition of fake news and intentional defamation," the statement read. "After over 40 years of public service, if any of these allegations were true, they surely would have been made public long before now."
The column, penned by Aaron Klein, includes this nauseating detail that attempts to paint Moore as a "romantic" for dating teenagers when he was well into his 30s (Klein's words, not the victim's):
"Another woman says when she was 17 and Moore was 34, they openly dated each other in the spring of 1981," he wrote. "This woman also is not cited making any claims of inappropriate sexual conduct. In fact, she characterized Moore as being romantic, reading poetry to her, and playing the guitar."
Breitbart's article also seems to suggest that Jeff Bezos may have intentionally defamed Moore for political reasons, noting that the Amazon CEO owns Washington Post and is a proponent of "open borders."
The article even took some time out to accuse Moore's opponent, Doug Jones, of having close ties to liberal boogeyman George Soros.
Breitbart writer Aaron Klein isn't new to the world of political muckraking, having suggested that Barack Obama "might be" in league with Al Qaeda and questioning his religious identity. This is, however, the first time he has defended an alleged pederast.
Roy Moore has been an outspoken opponent of gay rights, even saying that he thinks "homosexuality should be illegal."
The age of consent was and continues to be 16 in Alabama.
[image via screenshot]
—
Follow Lawrence Bonk (@sidescrollers) on Twitter
Have a tip we should know? tips@mediaite.com