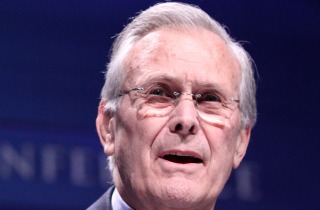 Former Defense Secretary Donald Rumsfeld gave an interview recently where he said he was never really on board with George W. Bush in believing "our particular template of democracy is appropriate for other countries at every moment of their histories."
He added, "The idea that we could fashion a democracy in Iraq seemed to me unrealistic."
Well, those comments obviously got lots of attention, and in speaking with CNN earlier today, Rumsfeld said that "the implication that that statement was anti-Bush is ridiculous."
He further clarified that he had the "broadly held view" that Sadaam Hussein should be replaced by a government that would not have WMDs, wouldn't invade his neighbors, and would be "reasonably respectful of diverse ethnic groups."
And lest you think Rumsfeld's changed his tune, he insisted he's been consistent on the matter. Per CNN:
In a May 2003 speech to the Council on Foreign Relations, for example, Rumsfeld said, "This much is clear: we have a stake in their success. For if Iraq — with its size, capabilities, resources and its history — is able to move to the path of representative democracy, however bumpy the road, then the impact in the region and the world could be dramatic. Iraq could conceivably become a model — proof that a moderate Muslim state can succeed in the battle against extremism taking place in the Muslim world today."

Rumsfeld told CNN that he stands by that statement, that a democratic Iraq would be a model for the region, but that doesn't contradict his skepticism or the fact that his goals for what came after Saddam Hussein were more modest.
[image via Gage Skidmore]
— —
Follow Josh Feldman on Twitter: @feldmaniac
Have a tip we should know? tips@mediaite.com
Josh Feldman - Senior Editor