RuPaul Is 'Campaigning' In New Hampshire To Spread Awareness That He Is Not Ron Paul
RuPaul Is 'Campaigning' To Spread Awareness That He Is Not Ron Paul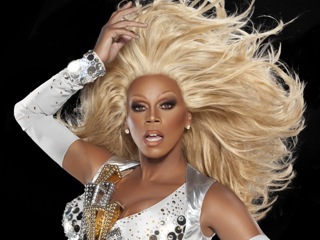 It is difficult at this juncture in the political process to imagine that the 2012 Republican primaries can get more outrageous than they have been for the past year, and yet every day brings a new, unexpected twist to the drama. This morning comes the news that fashion icon/legendary drag queen RuPaul is getting in on the action in New Hampshire. Sick of being confused for Rep. Ron Paul, apparently, RuPaul is "campaigning" in a New Hampshire diner this morning (in Ferragamo!) to distinguish himself from the libertarian top-tier candidate.

RELATED: Watch RuPaul's Speech To New Hampshire Voters (And Challenge To Ron Paul)
The bizarre news that RuPaul was, once and for all, promoting the new season of "RuPaul's Drag Race" jumping into the campaign fray broke yesterday in Politico, of all places, to which the host explained that he would be visiting the Red Arrow Diner and hoped to find Rep. Paul and prove that they were not the same person. He explained:
"I'm going to N.H. on a mission to spread love and set the record straight: contrary to recent reports, I am NOT Ron Paul. And I am not running for president of the United States. I hope to meet Ron Paul in person so we can be seen together to put the rumors to rest once and for all. And to remind Mr. Paul and all the Republican presidential candidates 'if you can't love yourself, how in the hell are you going to love somebody else. Can I get an 'Amen?'"
RuPaul also had a serious political message, noting that he was not political per se, but "any time a man leaves the house in a wig and a pair of cha cha heels, he's making a political statement. Let us not forget that this great nation was founded by a bunch of men wearing wigs." He arrived this morning and immediately began tweeting about it: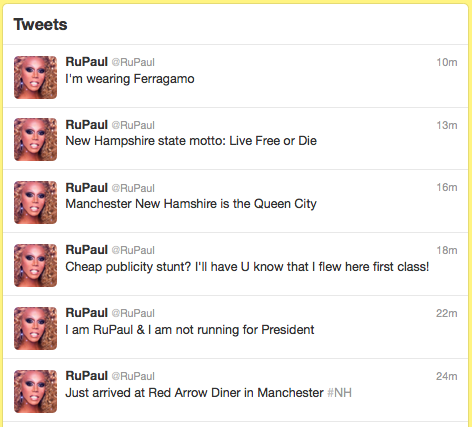 We can only hope someone is filming this.
It is unclear just how far RuPaul will take this– one imagines that a season finale of RuPaul's Drag Race with a Rep. Ron Paul cameo would be the best case scenario– or if he will be cashing in on this with merchandise, though it appears that someone has beaten him to the punch.
Update: Video of RuPaul's speech in Manchester below:
Have a tip we should know? tips@mediaite.com