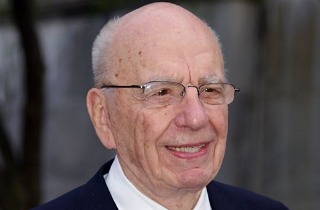 Rupert Murdoch, the head of NewsCorp (the corporate owner of Fox News), penned an op-ed for The Wall Street Journal today in which he strongly advocates for immigration reform, an issue believed to have cost Eric Cantor his reelection at the hands of the tea party. And, in fact, Murdoch opens his op-ed by saying, "When I learned that House Majority Leader Eric Cantor had lost his Republican primary, my heart sank."
He worries that Cantor's loss would send Congress the wrong signal that immigration reform should be brushed aside, and declares, "One of the most immediate ways to revitalize our economy is by passing immigration reform."
Murdoch makes the case that "immigrants enrich our culture and add to our economic prosperity," and in addition, they are actually hard-working individuals.
I don't believe that people come to America to sit on their hands. The vast majority of America's immigrants are hardworking, family-minded individuals with strong values. They are drawn here from many different places by a common belief that this is still the land of opportunity for those willing to work hard.

We need to give those individuals who are already here—after they have passed checks to ensure they are not dangerous criminals—a path to citizenship so they can pay their full taxes, be counted, and become more productive members of our community.
Murdoch even takes a shot at "extreme" conservatives dead-set against immigration reform and argues that Congress must act on this issue because if they don't, President Obama might do it by executive action, and no one wants to see the political avalanche of outrage that would ensue from that.
You can read Murdoch's full op-ed here.
[image via David Shankbone]
— —
Follow Josh Feldman on Twitter: @feldmaniac
Have a tip we should know? tips@mediaite.com
Josh Feldman - Senior Editor