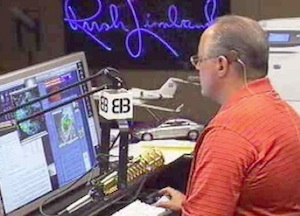 During his radio broadcast Thursday,Rush Limbaugh announced he was officially activating his Twitter account, @limbaugh, and told everyone who was listening to retweet him for support. "Everybody has been asking me what they can do to help in all of this, and I've been saying, nah, just do what you've been doing just, if you listen, keep listening, that's fine, but there's an army out there that wants to be mobilized, and so, I figured, use Twitter for it. I'm just going to put some things on Twitter that you can help us circulate. It's that simple you just retweet them!"
In a matter of hours, in Charlie Sheen-esque fashion, Limbaugh soon accrued over 100,000 Twitter followers.
RELATED: Limbaugh Denies He's Lost 28 Sponsors: How Can They Say it? Because They Lie!
"I'm not going to be hanging on Twitter 15 hours a day and tweeting, 'Just had breakfast, have a wonderful day! Bye! Here's a picture of me eating some cornflakes!' None of that stuff," he said. "Just things I want people to see and there's a really good one today that I want people to see, and I'm going to tweet it out."
Limbaugh's first tweet, which he urged listeners to widely disseminate, linked to an article by Legal Insurrection's William A. Jacobson who reported Angelo Carusone, the Director of Online Strategy for Media Matters, astroturfed advertisers using a preexisting "Stop Limbaugh" campaign.
While Carusone was contacting advertisers, Media Matters began running almost daily counts of how many advertisers had "dropped" Limbaugh. Media Matters did not disclose that advertisers were "dropping" Limbaugh as a result of the efforts of Media Matters' own employee, Carusone.

Carusone did not try to hide his efforts in his media interviews, but Media Matters itself did not attribute the success of the campaign to its own efforts.

The weekend Twitter and Facebook campaign by Carusone paid dividends, as many of the initial advertisers cited online complaints as one of the reasons for dropping Limbaugh.

Media Matters also inflated the numbers, including advertisers who never advertised on Limbaugh but merely acknowledged a pre-existing policy. Yet those inflated numbers (50? 100? 140?) then were picked up by the media, to create the appearance of momentum.
Listen to Limbaugh's announcement below:

(h/t Daily Rushbo)
Have a tip we should know? tips@mediaite.com