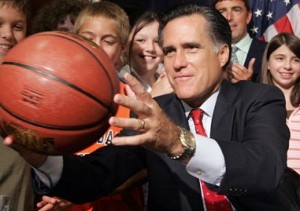 As is often said of Christmas, "You keep March Madness in your way, I'll keep it in mine."
While President Obama celebrates the annual NCAA Basketball Tournament with his "Barack-etology" segments on ESPN, conservatives celebrate it by complaining about President Obama's "Barack-etology" segments on ESPN, and Mitt Romney…skips it. The Young Turks' Cenk Uygur has begun a new tradition, the "GOP Madness Tournament," and he needs your help.
The contest promises to be a wild one, as TYT is accepting submissions for the craziest Republican moments from the past  year, to be pitted against each other in a round-robin of ridiculosity, from which only one champion will emerge. From Current TV's TYT page:
Should Newt's $2.50 gas campaign be a contender? Are Rush Limbaugh's vulgar comments about women the most extreme moment so far? Give us your suggestions at #GOPMadness or leave a comment below with the most ridiculous, extreme, or heinous GOP people and events so far this year. Be specific — "Rush Limbaugh" doesn't count — and be creative.
Now, there's no rule that says you can't submit good Republican ideas, but unfortunately, they're against most of them now.
Apparently, the submissions will be narrowed through on-air segments that will likely involve viewer voting, until Rick Perry wins.
Actually, if I had to pick right now, I'd say the craziest Republican phenomenon this year is the bullseye that Rick Santorum has tattooed to his foot. Despite being outspent a jillion-to-one, he keeps dealing electoral body blows to Mitt Romney, but every time he gets a head of steam going, he finds some new way to end up in a ditch, whether it's bashing JFK, or railing against sending your kids to college. This week's version features Santorum stumping in Puerto Rico, and telling them they better talk English if they want to be a state.
The Young Turks don't say what the winning submission wins, so I'm willing to throw in my vintage TYT t-shirt as a prize, especially if one of them can think of a synonym for GOP that rhymes with "March."
Have a tip we should know? tips@mediaite.com