S.E. Cupp Explains How By Staying in Race, Republicans Are Enabling Trump to Win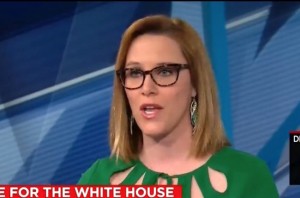 S.E. Cupp brought up a few very interesting points in a piece for The New York Daily News this morning. She explained that when it comes to Donald Trump and his meteoric rise as a non-establishment Republican presidential candidate, his success has very little to do with a real likelihood to become president. It also has very little to do with likability.
What Cupp said is Trump's real secret weapon is the plurality of votes he is able to get as Republican voters are torn between the other four candidates left in the race. She brought up Ben Carson and John Kasich, saying, "It's either delusion or vanity driving these campaigns now, not public support."
Carson has been facing plenty of questioning on his reasoning for remaining in the race in recent weeks. That questioning will surely pick up now that Trump has won another state, with Marco Rubio and Ted Cruz predictably filling out the other top spots. Cupp said this:
But even if Kasich and Carson were to drop out now, this would not solve the Trump problem. Rubio and Cruz would still legitimately have reason to stick around. Their only job is to be the last guy standing who is not named Trump, and hope that they consolidate the rest of the Republican electorate.
In spite of all this, Cupp still does not believe that Trump has what it takes to win the general election. She concluded that "the Republican Party might just nominate the least liked candidate ever, elected by a minority of Republican voters, for an office he likely cannot win."
[image via screengrab]
For more from Lindsey, follow her on Twitter.
Have a tip we should know? tips@mediaite.com