Salma Hayek Says Trump Planted Retaliatory Enquirer Story When She Rejected Him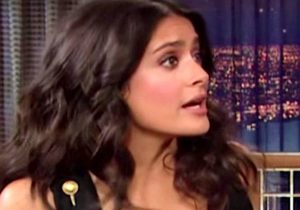 Today on El Show del Mandril on Radio Centro 93.9 in Los Angeles, Hillary Clinton surrogate and actress Salma Hayek told a story about Donald Trump. (Her dislike of him is well-documented.)
According to Buzzfeed, she shared on the Spanish-language program that he pursued her while she was involved with someone, was rejected, and planted a story in the National Enquirer about how she was too short for him. Here's her quote:
When I met that man, I had a boyfriend, and he tried to become his friend to get my home telephone number. He got my number and he would call me to invite me out … When I told him I wouldn't go out with him even if I didn't have a boyfriend, [which he took as disrespectful], he called — well, he wouldn't say he called, but someone told the National Enquirer … I'm not going to say who, because you know that whatever he wants to come out comes out in the National Enquirer. It said that he wouldn't go out with me because I was too short.
She said that he called her after the story came out and asked, "Can you believe this? Who would say this? I don't want people to think this about you." She claimed he wanted her to go out with him so that no one would think she was "too short."
All of this was said to back up Hayek's insistence that she believes the woman who are coming forward to claim Trump sexually assaulted them.
During her interview, she also lambasted the media for not paying enough attention to Trump's promise that if he is President and Mexico won't pay for the border wall, he will freeze funds from Mexican-Americans to their families across the border, who use that money to eat.
She said, "That's gravely serious. People don't know about this. Even if you're here legally, a US citizen, you wouldn't be able to send money."
[image via screengrab]
Have a tip we should know? tips@mediaite.com