Sanders Kept Promise To Family To Say Sandra Bland's Name At Democratic Debate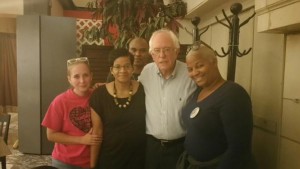 According to a Houston-area pastor and #BlackLivesMatter activist, Democratic presidential candidate Bernie Sanders met the mother of Sandra Bland and promised to say her name at the CNN debate in Las Vegas. When debate moderator Anderson Cooper brought up the subject, Sanders kept his promise.
According to Yahoo! News, Rev. Hannah Adair Bonner, Bland's sister Shante Needham, and Bland's mother Geneva Reed-Veal saw Sanders while they were eating dinner at the East Street Cafe, a Thai restaurant in Washington D.C.'s Union Station. The chance encounter occurred on Thursday, Oct. 8, just five days before the first Democratic debate, which would be broadcast from across the county in Nevada.
Bonner blogged about the experience, saying that she approached Sanders and asked if he would like to meet Reed-Veal since he'd mentioned her daughter's name several times on the campaign trail. He said he did, so she and Needham brought Reed-Veal over to Sanders' table.
When Sandy's mother bumped into #BernieSanders in a Thai restaurant in DC & he promised to #SayHerName #SandraBland pic.twitter.com/6cGP5BQDyr — Hannah Adair Bonner (@HannahABonner) October 14, 2015
"What happened to your daughter is inexcusable," he told Bland's mother. "We are broken, and this has exposed us." He then promised to keep saying Bland's name at future campaign stops, including the then-upcoming Democratic debate.
When Bonner asked Sanders to pose with them for a picture, he agreed without issue. "He did not impose upon Ms. Geneva to ask for a picture of his own," wrote the pastor. "He did not use the moment as an opportunity to promote his campaign. He took no record, he made no statement. He did not try to turn it into a publicity stunt."
w/ #SandraBland fam in DC last week bumped into #BernieSanders at Thai place & he promised to #SayHerName #DemDebate pic.twitter.com/VsfL021n2v — Hannah Adair Bonner (@HannahABonner) October 14, 2015
Sure enough, when Cooper asked the five Democratic presidential candidates about #BlackLivesMatter, Sanders did what he said what he was going to do.
"Black lives matter," he said. "The reason those words matter is the African-American community knows that on any given day, some innocent person like Sandra Bland can get into a car and then three days later she's going to end up dead in jail."
[h/t Yahoo! News]
[Image via Twitter]
— —
>> Follow Andrew Husband (@AndrewHusband) on Twitter
Have a tip we should know? tips@mediaite.com