'Clock Kid' Ahmed Mohamed Reportedly Met with Sudanese Dictator Accused of Genocide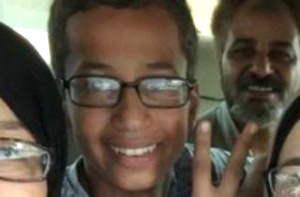 When Ahmed Mohamed was mistakenly suspected of bringing a bomb to school last month, he and his homemade clock became an overnight news point on racial profiling and Islamophobia. Mohammed's interest in science was vigorously acclaimed by online commentators, and he received invitations from places ranging from Silicon Valley to the White House.
Before Mohamed meets President Obama though, reports indicate he met a different president this week that might come as a shock to his defenders.
The Washington Post reported that Mohamed and his family were received at a compound in Khartoum, Sudan on Wednesday, where they were greeted by President Omar al-Bashir. The Mohameds reportedly told the state media that Bashir was impressed by the "Clock Kid's" scientific interest and encouraged his pursuits.
Ahmed Mohamed ("clock boy") with Sudan's genocidal tyrant. Not the move I'd have made. http://t.co/OlmWXTh87E pic.twitter.com/u4iUvwbqUt

— Kyle W. Orton (@KyleWOrton) October 16, 2015
The problem with this is that Bashir is wanted by the International Criminal Court for genocide, crimes against humanity and various other war crimes in Darfur. Bashir's dictatorial government reportedly offered sanctuary to Osama Bin Laden during the 90s, and the country is still under economic sanctions by the US.
What makes this doubly surprising is that Mohamed's father, Mohamed Elhassan Mohamed, is a Sudanese immigrant who ran against Bashir in two of his presidential elections. Mohamed's name was reportedly blocked out by Bashir on the ballots in 2010, with the Sudan Tribune reporting him saying "I was told that Bashir personally intervened with the court to reject my challenge."
Mohamed has sent out numerous tweets of his trip to the country, and reportedly promised to return someday "with a new invention and success."
[h/t The Guardian]
[imave via Twitter]
Have a tip we should know? tips@mediaite.com