Santorum Staffer On Campaign's Disorganization: I'm Sitting Here 'With My Dick In The Wind'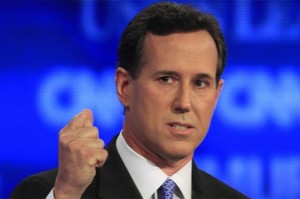 Contrary to everything Rick Santorum has been emphasizing, there's growing speculation the GOP hopeful is on the verge of dropping out. The Santorum campaign's disorganization and confusion, The Hill reports, only seems to be reinforcing the rumors. Several staffers expressed frustration, with one even saying, "I'm sitting out here in Pennsylvania with my dick in the wind with no idea of what's going on … It's the most disorganized thing I've ever seen."
While Santorum once had a solid lead over Mitt Romney in his home state of Pennsylvania, newer polls show the race is shaping up to be tight — and everyone seems to agree a loss there would be humiliating. Part of the criticism of Santorum's campaign has been the lack of organization. The Hill states:
The seemingly lack of a definitive plan has those on the inside wondering about the future. One top Republican strategist said he'd seen a surge of postings on Republican job boards from Santorum staffers, and two mid-level staffers told The Hill that top aides had gone radio silent.
RELATED: Santorum Tells Fox News 'No Question' He Will Win In Pennsylvania, But Polls Show A Different Story
The piece further states that one mid-level staffer said "he'd been unable to reach his bosses since he'd flown to Pennsylvania following the Wisconsin primary and had received no direction about where to open field offices or plans to build a ground game." The staffer told The Hill:
The campaign "has always been a little less organized than some other presidential campaigns but this is by far the worst I've ever seen it and it tells me there's no plan for anything," he said. "I'm sitting out here in Pennsylvania with my d— in the wind with no idea of what's going on… It's the most disorganized thing I've ever seen and it leads me to the conclusion that he can't continue and has no plans to."
Another mid-level staffer said, "We'd been receiving schedules and directives two weeks in advance, and now, nothing" — adding, "All of a sudden I'm not hearing anything anymore. That gives me the sense that nothing's happening in Pennsylvania and the reason they're not bringing in more advance work is there's no more advance to be done."
Santorum spokesman Hogan Gidley "strongly denied the staffers' reports and rejected the suggestion that there were signs the campaign was coming to a close." But asked about the campaign buying air time, Gidley "pled ignorance." Rather, he said, the campaign has met with other conservatives and discussed how to revamp and better communicate Santorum's message.
From The Hill:
If Santorum's campaign has put on hold detailed campaign schedules while it revamps its approach that could explain why the mid-level staffers had been left in the dark. But one disagreed with Gidley's assessment that the campaign had a full campaign schedule planned.

"It's a facade — he may be doing events but there's no real aggressive operation here. It's nothing like we've conducted in other states," he said.

Gidley questioned whether those mid-level staffers were telling the truth.

"We have never put things out two weeks ahead of time, ever — we never tell people where things are going until they're set in stone," he said.
We'll just have to wait and see whether Santorum's perseverance is simply rhetoric — or whether he really does plan to stick around.
(H/T The Hill)
Have a tip we should know? tips@mediaite.com