Sarah Palin Forced Bristol To Do Dancing With The Stars, Claims Margaret Cho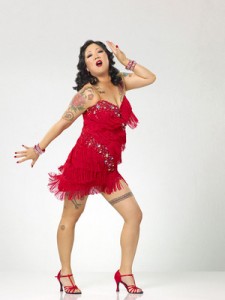 It's been nearly 24 hours since we posted our last story about Sarah Palin—yeah, we can hardly believe it either. Thankfully, now we can end our long silence with a juicy news item. Dancing With the Stars Season 11 contestant and comedian Margaret Cho published a blog post yesterday in which she offered her take on Bristol Palin's television debut—one that claims the teen wouldn't have been Dancing at all if a certain Mama Grizzly hadn't pressured her into it.
The post, from Cho's personal website, is titled "Pistol Whipped." She begins defensively, refuting "everyone" who apparently "tr[ied] to pit me against Bristol" while both were on the show. In reality, says Cho, she and Bristol got along famously—"I consider her a friend." A real friend, though, probably wouldn't say what Cho says next:
Why did Bristol do Dancing with the Stars? I heard from someone who really should know (really should seriously know the dirt really really) that the only reason Bristol was on the show was because Sarah Palin forced her to do it. Sarah supposedly blames Bristol harshly and openly (in the circles that I heard it from) for not winning the election, and so she told Bristol she "owed" it to her to do DWTS so that "America would fall in love with her again" and make it possible for Sarah Palin to run in 2012 with America behind her all the way. Instead of being supposedly "handicapped" by the presence of her teen mom daughter, now Bristol is going to be an "asset" – a celebrity beloved for her dancing. I am sure the show wasn't in on this (but who knows anything really).

[…] Bristol is learning. She improved a lot, in my opinion. Her tango was fierce and really the best dance she did. You really do learn to dance in this competition! I am proud of her for shaking her ass! But keep in mind there are other forces at work here and it's not just for the love of dance.
Verrrry interesting. Who else is excited to see if Palin responds to this allegation via Facebook post? Cho, for the record, is expecting another kind of retaliation: "Now I am scared I am going to wake up with a decapitated moose head in my bed."
[h/t Vulture]
Have a tip we should know? tips@mediaite.com