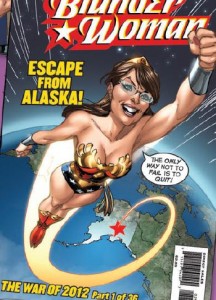 Newsweek, move over. The current issue of Mad Magazine contains images of Sarah Palin that make the "controversial" running shorts cover seem tame by comparison. As part of their "20 Dumbest of 2009" list, they've illustrated the Going Rogue author as "Blunder Woman," a sexy stupor-heroine who does battle with an imaginary Death Panel.
The Mad cartoons present something of a conundrum for Palin friends and foes alike. On the one hand, the image is clearly meant to mock Palin. On the other hand, it's Sarah Palin in a Wonder Woman outfit. I can hear Rich Lowrys everywhere sitting up "a little straighter."
Similarly, the Mad illustrations join other works of fantasy art that simultaneously mock Palin and betray a deep appreciation for her physical gifts. A quick review of our Gallery of Palin Fantasy Art makes the case that her detractors' anthem should be "I Hate Myself for Loving You." To put it more bluntly, is the answer to Newsweek's question, "How do you solve a problem like Sarah Palin?"  five minutes alone with their cover and a bottle of Jergens?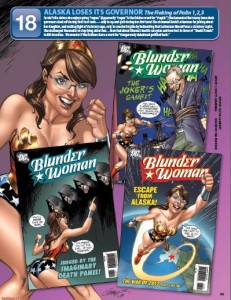 Palin fans can take a measure of comfort from the fact that she was #18 out of 20 on Mad's Dumbest list.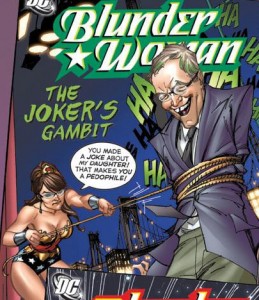 Sarah Palin wraps David Letterman up in her golden lasso. While "Wonder Woman's" lasso makes a liar tell the truth, it's unclear what power the rope has under the "Blunder Woman" iteration. Maybe it makes them tell the truth, but funnier.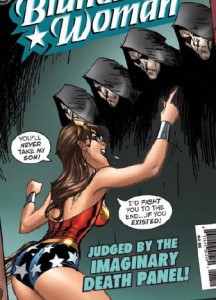 Palin defiantly fights back against a Death Panel of her own making.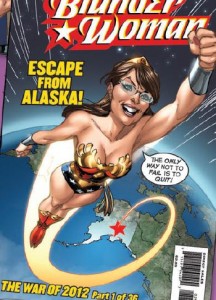 Who would have known that her resignation would be such a springboard?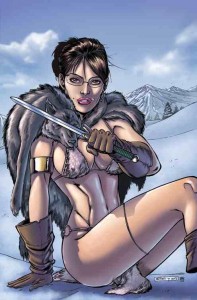 Devil's Due Comics give Palin an apocalyptic makeover for their Barack the Barbarian series.

>>>NEXT: There's more! But some are not safe for work… We repeat: NSFW!
Have a tip we should know? tips@mediaite.com