Scarborough Compares Trump's Latest Incitement to Violence Against Hillary with Rocket to Mars?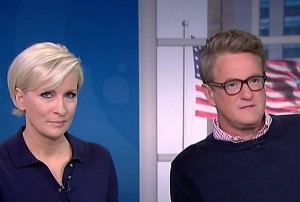 There are many members of the media who have spent the weekend softening Republican presidential nominee Donald Trump's latest incitement to violence against his Democratic rival, former Secretary of State Hillary Clinton, but Morning Joe host Joe Scarborough doesn't see the problem with Trump's dangerous comments at all.
Scarborough told his comrades, Monday morning, that while he was offended by Trump's assertion that "Second Amendment people" might be able to stop Hillary from appointing Supreme Court justices, he didn't see the problem with Trump suggesting that Hillary's Secret Service detail be disarmed so we could "see what happens to her":
Like I said, I'm far more offended by that whole — "Who knows. maybe the second amendment people will have a solution," than by this. "Let's see what happens" would be ridiculous as me saying, "You know what? You think you're so smart? I'm going to build a rocketship and you're going to have to get in that rocketship, and you're going to go to Mars, and let's see what happens, let's see if you're as smart as you think you are."
Oh, I see what Scarborough's problem is. Like a lot of mainstream media figures, he didn't really listen to what Trump said. When discussing Trump's remarks, many have described him as saying that Hillary's Secret Service "should disarm" so we can "see what happens to her." Now, even that would be a troubling statement, but it's actually not what Trump said. He started out by saying "they should disarm," but he didn't leave it at that, he deliberately added an extra element of incitement (emphasis mine):
Now, you know she's very much against the Second Amendment, she wants to destroy your Second Amendment — guns, guns, guns, right? I think what we should do is, she goes around with armed bodyguards like you have never seen before. I think that her bodyguards should drop all weapons, they should disarm, right? I think they should disarm. Immediately, what do you think? Yeah, take their guns away. She doesn't want guns. Take their – let's see what happens to her. Take their guns away, OK? It'll be very dangerous.
See, disarming a Secret Service detail, while difficult, is not like building a rocketship to Mars in a couple of key respects, most notable that people can get hurt or killed just by trying the former, but not the latter. Trump doesn't say who should "take away their guns," exactly, he's just saying. Take away their guns. The press hears an inflammatory hypothetical. Someone out there in the Trump masses is hearing a marching order. Trump didn't have to add "take away their guns," and say it three times, he did it to make his message crystal-clear.
None of which is to say that Trump actually wants someone to ambush Hillary's Secret Service detail, but Trump definitely wants to be accused of that so we'll all talk about it, and he and his supporters and Joe Scarborough can be shocked, just shocked, that anyone would think such a thing. The problem is that people are listening, and if someone acts on one of Trump's incitements, the people who have humored the Donald Trump candidacy for so long will have to answer for it.
Have a tip we should know? tips@mediaite.com