Sean Spicer: NY Times Owes Trump Apology for Report 'Riddled with Inaccuracies'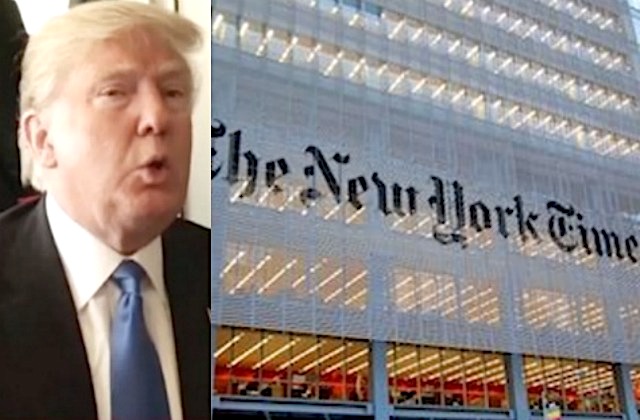 White House Press Secretary Sean Spicer said today the White House
While aboard Air Force One, where he also defended the president's claims about media coverage of terrorism, Spicer called out the Times for a report they dropped this weekend headlined "Trump and Staff Rethink Tactics After Stumbles."
The report, by Glenn Thrush and Maggie Haberman, gives some insight into how the new administration is handling things less than three weeks in, including how President Trump is spending his time:
Cloistered in the White House, he now has little access to his fans and supporters — an important source of feedback and validation — and feels increasingly pinched by the pressures of the job and the constant presence of protests, one of the reasons he was forced to scrap a planned trip to Milwaukee last week. For a sense of what is happening outside, he watches cable, both at night and during the day — too much in the eyes of some aides — often offering a bitter play-by-play of critics like CNN's Don Lemon.

Until the past few days, Mr. Trump was telling his friends and advisers that he believed the opening stages of his presidency were going well. "Did you hear that, this guy thinks it's been terrible!" Mr. Trump said mockingly to other aides when one dissenting view was voiced last week during a West Wing meeting.

But his opinion has begun to change with a relentless parade of bad headlines.
The report also says that Trump does keep tabs on media coverage––"watching television in his bathrobe," they write at one point––and he goes through news clips with Spicer, "marking the ones he does not like with a big arrow in black Sharpie."
In addition, one portion of the report notes that the president "was not fully briefed on details of the executive order he signed giving his chief strategist [Steve Bannon] a seat on the National Security Council."
According to The Hill, Spicer responded to that report by saying, "That report was so riddled with inaccuracies and lies that they owe the president an apology. There were just literally blatant factual errors and it's unacceptable to see that kind of reporting or so-called reporting."
One of the inaccuracies he cited was what Trump wears while watching TV, telling reporters, "I don't think the president owns a bathrobe; he definitely doesn't wear one."
The president tweeted about the report earlier today:
The failing @nytimes writes total fiction concerning me. They have gotten it wrong for two years, and now are making up stories & sources!

— Donald J. Trump (@realDonaldTrump) February 6, 2017
[image via screengrab]
— —
Follow Josh Feldman on Twitter: @feldmaniac
Have a tip we should know? tips@mediaite.com
Josh Feldman - Senior Editor