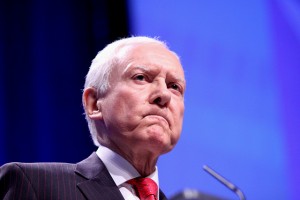 Sen. Orrin Hatch (R-UT) adopted a combative tone in a recent interview with NPR where he said that he is "doggone offended" by libertarians. He told NPR "I despise these people" and implied that he is happy to intimidate those that "dump on" him with threats of violence.

RELATED: Sen. Hatch: Obama Traded 'Hardhat' For 'Hipster Fedora' And 'Double Skim Latte'
"These people are not conservatives. They're not Republicans," Hatch angrily responds. "They're radical libertarians and I'm doggone offended by it."

Then Hatch, a former boxer, turns combative. "I despise these people, and I'm not the guy you come in and dump on without getting punched in the mouth."
Hatch is facing a stiff primary challenge in Utah from his right. He is being challenged for his seat in the Senate by state Sen. Dan Liljenquist and state Rep. Chris Herrod. The challenge to Hatch's quest for a seventh term is in doubt.
In 2010, Hatch's Utah colleague, former Sen. Bill Bennett, lost his seat in a primary caucus that nominated now Sen. Mike Lee. Hatch's campaign is cautiously optimistic that he will not suffer the same fate. The Salt Lake Tribune released a story on Thursday in which the Hatch campaign claims that it has the support of the 60 percent of convention delegates he needs to win the Republican party's nomination outright.
If he can pull off a convention win to retain his seat in the Senate, it will certainly not be due to the support of Utah's libertarians.
h/t Reason Magazine
Have a tip we should know? tips@mediaite.com