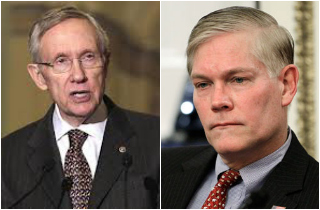 Senator Dick Durbin (D-IL) caused quite the dustup on Wednesday, when a Facebook post of his surfaced describing an altercation between President Barack Obama and an unnamed "House leader" who had angrily told the president during budget negotiations, "I can't even stand to look at you."
Spokesmen for House Speaker John Boehner (R-OH) and House Minority Leader Eric Cantor (R-VA) both flatly denied the account on Wednesday afternoon, alleging it had been "invented out of thin air," and White House Press Secretary Jay Carney said it never happened. But Durbin was standing by the story Thursday morning, though he had yet to name the representative in question.
According to he Huffington Post, two Democratic senators are now identifying Senate Majority Leader Harry Reid (D-NV) as the source of the story, and saying that Reid named Representative Pete Sessions (R-TX), chairman of the House Rules Committee, as the speaker of the comment. According to the sources, Reid informed the Democratic caucus of the exchange, saying he was "sorry" to relay such an incident, but that Obama had been "dignified" in his reply. He added that Sessions backed down after the comment.
The senators were not present at the meeting when the comment was allegedly made.
Sessions' spokesperson denied the claim. "I think it was made clear yesterday from Jay Carney that the exchange you are referring to did not happen," Torrie Miller said Thursday.
The White House blamed the entire thing on a "miscommunication": "While the quote attributed to a Republican lawmaker in the House GOP meeting with the president is not accurate, there was a miscommunication when the White House read out that meeting to Senate Democrats, and we regret the misunderstanding," a White House official said.
——
>> Follow Evan McMurry (@evanmcmurry) on Twitter
Have a tip we should know? tips@mediaite.com