Sex And The City Star: My Character 'Would Rather Shoot Herself Than Vote For Mitt Romney'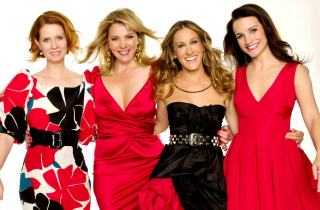 If the ladies of HBO's Sex and the City existed in real life, they wouldn't like GOP presidential candidate Mitt Romney, according to the show's co-star Cynthia Nixon, who had some choice words for the former Massachusetts governor in a recent radio interview.
Talking with radio host Melony Torres of 102JamzOrlando, the New York City native said of her Sex and the City character: "I think Miranda Hobbes would rather shoot herself in the head than vote for Mitt Romney. Mitt Romney is so terrible on women's issues."
What about the other three ladies? They'd share Hobbes's view on Romney, Nixon continued:
"I know that there are women who support him, and it's hard for me to understand, but certainly Miranda nor Carrie nor Charlotte nor Samantha, none of those women would ever vote for Mitt Romney. They would do something terrible first before they would ever vote for Mitt Romney."
Nixon is an outspoken supporter of President Barack Obama and recently spoke at a campaign event in Ybor City for the Democrat. The openly-gay celebrity, who married her partner Christine Marinoni this spring, talked about the Lilly Ledbetter Fair Pay Act and explained to attendees:
"You know, everybody used to say about Bill Clinton that he was the first African-American president, but I think that Barack Obama is the first gay president. My wife and I got married this May — and I know it took him a little while to get there, but the fact that he came out fully for marriage equality for all Americans — we've never had a president come anywhere close to that. And I know that if we can keep him in there for another four years, we're gonna see the repeal of the Defense of Marriage Act. I'm so grateful to be here in Florida because in New York there's nothing to do Obama-wise. There's some other stuff to do — we were in the eye of the storm this week. But here you're the eye of the political storm."
Sex and the City alum Sarah Jessica Parker is also an Obama champion, having hosted a fundraiser and appeared in a video ad for him earlier this year. The popular HBO program, which ran from 1998 to 2004, took shots at former New York City major, Rudy Giuliani from time to time.
[h/t HuffPost Women]
— —
>> Follow Laura (@LauraDonovanUA) on Twitter
Have a tip we should know? tips@mediaite.com