'Shameful and Disgusting!' Human Rights Leader Excoriates Trump: 'No Friend to the LGBT Community'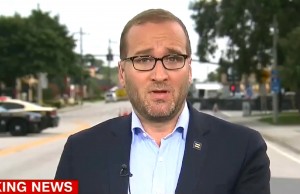 Human Rights Campaign President Chad Griffin called it "shameful and disgusting" for Donald Trump to use the terrorist attack at a gay nightclub in Orlando for political gain.
Speaking to CNN's Wolf Blitzer Monday evening, Griffin said that Trump's claim to be the "better friend" to women and the LGBT community than Hillary Clinton was both untrue and deserving of contempt.
"I will tell you who the better friend is and someday I believe that will be proven out bigly," Trump said in an address Monday afternoon.
"He is no friend to the LGBT community. He is no friend," Griffin said. "And at a moment like this when a leader should put their personal ambitions and their partisan differences aside, or just shut up, but if they choose to speak out, they should be speaking from a place of unity and a place of sympathy and talking about building bridges. And I would tell you, Wolf, I bet there is not a single family member or friend or brother or sister or girlfriend or boyfriend that is suffering from this great loss that found any comfort in what Donald Trump had to say today. Instead, he was up there bragging about the fact that he claims he predicted this."
"And let me say one other thing," he continued, "LGBTQ people, we are Muslims, we are women, we are Latinos. We are as diverse as the fabric of this nation. And, Wolf, any attack on any one of us is an attack on all of us. And it's shameful and disgusting what Donald Trump did today and what he said today. And I hope he says not another word about it."
[image via screengrab]
Have a tip we should know? tips@mediaite.com